Post by Mobius Y on Aug 27, 2017 18:05:26 GMT
BE WARNED: This is very image-heavy, including gif animations.
So Andromeda's support is basically ending and of course there's the usual doomsday prophecies and ddrguy300 whine threads popping up.
But what you probably didn't know is BioWare still intends to input new stuff in the game!
There was recently a tiny update to Andromeda that almost nobody noticed. But other people besides myself in their infinite wisdom totally did!
And with their infinite wisdom these vaguely-mentioned-other-people perused said update to see what was brought to the table - and what they found was astounding!
Four new characters!

For realzies?! Four?!! Yeah, four!
The crazy thing is that each of these characters is basically listed the same with nigh-unnoticeable differences. They are all named the Angara Adept!
Sounds weird I know but it is what it is. According to the research though, each Angara Adept has its own unique set of powers and potential playstyle as each one is associated with a different "alignment". We'll cover that a little more later.
BACKGROUND

The Angara Adept(s) hails from the continent of Angara, in a little secluded town called Vale. This town has purposefully remained hidden from the rest of the world - and the galaxy - by a deep sense of duty they possess to protect them from the ancient power of Alchemy. Long ago the people of Angara and other locales could use Alchemy to work miracles, but as is wont with mere mortals, there were some who wanted to use Alchemy for power. So a brave few of these ancient peoples sealed the power of Alchemy away, and the tools requires to bring it back to the universe - the Elemental Stars - were sealed away in an ancient tomb buried deep beneath Vale.
The sealing of the Elemental Stars caused the area around Vale to become potently empowered by interesting geodes of crystal called Psynergy Stones. These Psynergy Stones are the source of the Angara Adept's power, called Psynergy, allowing them to use their mind to create devastating attacks in battle (much like a biotic).
Below you can see the continent of Angara, with the pointer indicating where the town of Vale is. It is quite separated from the rest of the world.
Actually it might not be the town of Vale where the pointer is at, it may be west of it. Bottom line, who really cares?

Oh wait, there it is... Number 1 on the map! Durr.


ANALYSIS
The power of the Psynergy Stones bestows each Angara Adept with their own "alignment", each one basing its attacks and Psynergy on one of the four ancient elements.
Venus Adepts are powerful warriors who wield earth-based Psynergy, and can alter the very landscape around them.
Mars Adepts are adaptable fighters and shamans whose Psynergy is fire-based and extremely potent.
Mercury Adepts are invaluable team support whose water-based Psynergy can be used for healing as well as attacking.
Jupiter Adepts are a special breed whose wind-based Psynergy lets them read the minds of others, or even levitate!
All four Adepts use a skill unique to only these characters, called Djinn, to help them in battle. Each Djinn has an alternative look and function based on its own alignment.
For example, this is a Venus Djinn.
Cute little guy, huh?
For each character, their respective Djinn exists in three different states - Set, Standby, and Recovery.
When the Adept's Djinn are Set, they gain increased maximum health and shields plus cooldown reductions on all other powers. The Djinn can also be Unleashed from this state for an extra-powerful attack on a single enemy that is counted as a melee.
When the Adept's Djinn are Unleashed, it enters Standby. The Adept receives no benefits when its Djinn are in Standby, but that Djinni is ready to be Summoned in what is clearly the Angara Adept's most powerful AOE attack.
When a Djinni has been Summoned, it enters the Recovery state. During this time, no action can be taken with the Adept's Djinn.
Normally a Djinn in Standby will automatically Set itself again after forty seconds, and a Djinn in Recovery will automatically Set itself again after ninety seconds. This creates a whole new lineup of secondary skills on their own individual cooldowns for each Angara Adept!
Each of the Adept's power trees for their Djinn can increase the effectiveness of their Djinni's Unleash (via damage or restoration increases), lower the cooldowns from the Standby or Recovery modes, or even increase the impact radius of the Unleash. Summons can also be improved in the same power tree but their bonuses are significantly smaller and there are at most two or three options for them in the tree.
Each of the Angara Adept's alignment determines its powers and skills, as well as influence its possibilities for how players can utilize them in combat.
VENUS ADEPT
The Venus Adept boasts higher maximum Health and Shields than the other Adepts, at the cost of only having one Djinn available. However, the Venus Adept's attacks are the most powerful of the four in terms of raw damage. It is meant to be played as a moderately-tanky powerhouse that can deal massive damage against a single target very quickly.
Power 1 - Ragnarok
"Strike with a massive sword."
This is the Venus Adept's first Psynergy attack. It slams a single target for a high amount of flat damage. The base cooldown is 18 seconds.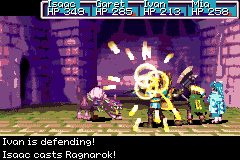 The power tree allows the player to better its efficiency or target potential - reducing its cooldown and making it an AOE attack, or a combo detonator - or simply increasing the raw damage output.
Power 2 - Gaia
"Attack with the earth's might."
The Venus Adept's second Psynergy power deals significantly less damage than Ragnarok but offers a huge amount of crowd control, as any enemies caught in the radius of Gaia are temporarily suspended in midair due to the ground beneath them literally rising up to do harm. The base cooldown is 20 seconds.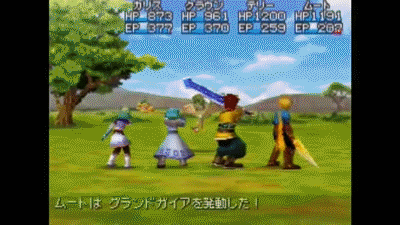 The power tree again allows the player to better its efficiency with radius increases and cooldown reductions, or to turn it into an excellent crowd control tool with high damage.
Power 3 - Venus Djinn
This is where each Adept gains access to two new powers depending on the State their Djinn is in.
Venus Djinni Unleash - Megiddo
Like every Djinni's Unleash, Megiddo is treated as a melee attack power so it gains damage bonuses from both. The Venus Adept's Djinni Unleash deals a flat amount of damage equal to three times the damage of a basic melee attack - further bonuses are additive making Megiddo a strong single-target damage-dealing ability.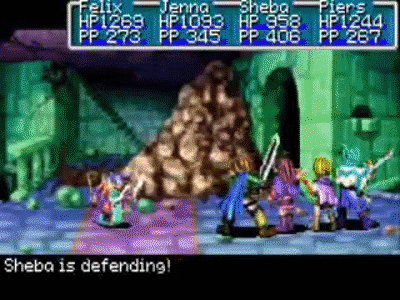 Venus Djinn Summon - Judgement
"The might of the apocalypse."
The "ultimate" ability of the Venus Angara Adept causes widespread AOE damage with a stagger/knockback effect. Considering the damage potential of Megiddo causing the Djinni to be in Standby prior to Summoning, the real power of the Venus Adept will be in the player's ability to quickly combo its Djinni's Unleash and Summon against crucial enemies within the wave.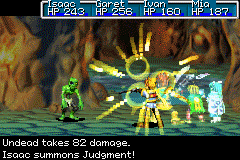 MARS ADEPT
The Mars Adept has similar base Health and shield values as the Venus Adept however it receives smaller bonus increases to these values. In return the Mars Adept has access to increased cooldown reductions on its powers and Djinni Recovery State as well as higher Health and Shield Regeneration rates. Also, most of its powers and attacks are primers for Fire Combos.
Power 1 - Blast
"Attack with an explosive blast."
The bread and butter of the Mars Adept does not inflict much up-front damage, but with a low cooldown of 12 seconds and a moderate impact radius it's a reliable source of damage output and constant proc'ing of DOT and Fire Combo priming.
Its power tree can drastically increase the radius and cooldown, or bump up the initial and DOT damage values as well as gain a damage bonus versus armour. It can also be upgraded to double up as a detonator power.
Power 2 - Guard
"Defend your allies with a heat aura."
Guard is the first of the "utility" Psynergy powers. When activated it causes the user and nearby allies within a 12m radius to gain damage reduction for 10 seconds. The base damage reduction is 50 points - this is further increased as the player continues down the skill tree. The cooldown does not begin until the damage reduction wears off, and has a base timer of 20 seconds.
Guard's power tree can also allow the player to reduce its cooldown reduction, provide stagger immunity, as well as increase the radius and even provide some slight health regeneration.
Power 3 - Mars Djinn
The Mars Adept has two Mars Djinni in its inventory. This means it can use the Djinni's Unleash attack twice in a row with practically zero cooldown, but in order to be able to use the Mars Djinn's powerful Summon attack it must first put both Djinni into the Standby state (which is done by said Unleashing).
Mars Djinni Unleash - Purgatory
Purgatory is one of the more visually spectacular Djinni Unleashes as it creates a column of fire on a single target, which expands and rapidly contracts. This Unleash deals twice the damage of a standard melee attack and while its instant-hit damage is only applied to a single target, any enemies caught in the column of fire are applied burning DOT and are proc'd for a Fire Combo. Purgatory's DOT lasts significantly longer than the Mars Adept's other DOT-applying abilities.
Mars Djinn Summon - Meteor

"A meteorite from deep space."
The "ultimate" of the Mars Adept hurls a flaming chunk of rock from space at its enemies. Meteor does high initial-hit AOE damage, but not as much as Judgement. It does, however, apply DOT burning damage and proc'ing for Fire Combos. Meteor's damage capability and utility to set up even more widespread AOE damage makes up for its drawback of taking more time to prepare due to the Mars Adept having 2 Djinni at its disposal, and both must be in Standby mode for the Adept to use its Summon.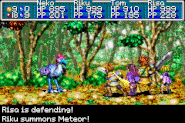 MERCURY ADEPT
The Mercury Adept has the advantage of its passives giving it a good blend of Health & Shield Regen/Regen Rates, cooldown reductions, and even radius increases to all its powers attacks turning them all into AOE-capable damage-dealers. The Mercury Adept sports two Mercury Djinn for use in battle.
Power 1 - Ice Missile
"Attack with spikes of ice."
Ice is simply frozen water, and the Mercury Adept's alignment gives it Psynergy powers allowing it to manipulate water. The first Psynergy power for the Mercury Adept is much like the Blast power for the Mars Adept, in that it is this character's bread and butter. Ice Missile deals moderate damage over an initially-small radius, slows enemies, and weakens armour. Unprotected enemies can be frozen in place, and any enemies hit by Ice Missile can be primed for a Cryo Combo. Its base cooldown is 15 seconds.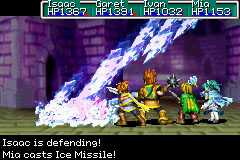 Ice Missile's power tree can increase damage dealt as well as armour weakening, or give greater cooldown reduction and an increased duration to the slowing effect.
Power 2 - Ply
"Heal allies with faith's power."
The Ply Psynergy is unique to the Mercury Adept. It behaves much like Shield Boost in that it restores allies' shields within a certain range of the Adept, however Ply also restores health. Ply's base cooldown is 24 seconds with an impact radius of 8m, and instantly heals 50% Health and Shields immediately. There is initially no regeneration bonuses.
Ply's skill tree can slightly increase the impact radius and restorative capabilities, reduce the cooldown a fair bit, or provide health regeneration for a short period of time after use.
Power 3 - Mercury Djinn
With two Mercury Djinn to this Adept's arsenal, the character has some very potent utility powers readily available. The downside for the Mercury Adept is that its Djinni's Unleash are strictly a support power, and its Djinn's Summon is not very strong compared to the other three Angara Adepts. However the Mercury Adept is unrivaled in its abilities to sustain its allies presence on the battlefield.
Mercury Djinni Unleash - Restore
A purely support power, the Mercury Djinni's Unleash is an amped-up Ply with a twist - it also gives allies some ammunition and Power Cells. By default it grants 60% immediate restoration, with regenerative capabilities and Damage Reduction for another ten seconds. It'll also resupply one Power Cell and a single clip of ammo for each ally. The base radius of this ability is 12m which can also be increased via the power tree.
Mercury Djinn Summon - Boreas
"The god of the north wind."
The Mercury Adept's Summon probably won't see much use in a game, but still has its own benefits. It deals moderate AOE damage over a wide radius, and procs all enemies struck for a Cryo Combo. Its best use is in its severe armour weakening ability, which at base is 75%. Given the usefulness of the Restore Unleash, though, most players will find it is more beneficial to simply use the Unleash for the majority of the game in order to keep allies' fighting capabilities at a maximum.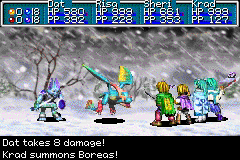 JUPITER ADEPT
The Jupiter Adept is a master of the winds, and this is reflected in its passives. It has the lowest base Health and Shields as well as the lowest increase bonuses to its defenses, however it can attain permanent movement speed and/or cooldown reduction bonuses on all its powers - including Djinn States - in order to keep its abilities going. The Jupiter Adept can also gain bonuses to the hovering mechanic, much like the Turian Havoc Trooper. The Jupiter Adept can be played in several unique ways but at first look it seems to benefit from mobile hit-and-run tactics. The Jupiter Adept carries three Jupiter Djinn which offer substantial passive improvements when Set, and allow the Jupiter Adept to release a devastating barrage of AOE attacks very rapidly. Jupiter Djinn in the Set state also increase this Adept's base movement speed!
Power 1 - Sonic Slash
The Jupiter Adept's control of the wind allows it to create literal blades of air that cut into their foes. Sonic Slash is a low-damage-but-high-DOT power that contributes to the Jupiter Adept's intended hit-and-run style of play, if players decide to opt for this method. Sonic Slash can hit multiple foes but at first this attack power only strikes enemies in a line in front of the Adept, up to a range of 20m. Its initial-hit damage is comparatively weak but the DOT effect lasts for 12 seconds and the total damage done from each tick is about 2.5x higher than the damage dealt on first hit. The base cooldown is 15 seconds.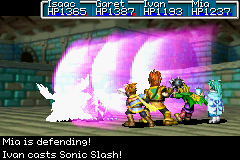 This power's skill tree can turn it into a wide AOE attack with higher initial-hit or DOT damage, as well as decrease the cooldown substantially. Players can run around the map casting this power on foes that are weak enough to die by the DOT without having to hang around for very long.
Power 2 - Thunderclap
The Jupiter Adept's combo power is a natural primer for Tech Bursts. Thunderclap strikes multiple foes for decent damage over a 7m radius, and the Jupiter Adept can cast it every 18 seconds.
Further improvements to the power can cause it to strike multiple times per cast, increasing its damage and AOE capabilities. It can also have reduced cooldowns and be turned into a detonator power.
Power 3 - Jupiter Djinn
As mentioned before, the Jupiter Djinn offer some of the best passive bonuses when left in the Set state on the Jupiter Adept - bonus movement speed, heavily reduced cooldowns, and extra defenses. Since this Adept can carry 3 Djinn, though, they are very capable of inflicting massive damage to an entire wave of enemies over a very short time span.
Jupiter Djinni Unleash - Thunder Mine
The Jupiter Djinni's Unleash inflicts as much damage as the Unleash from a Mars Djinni over a wider radius. It also primes any enemies struck for a Tech Combo, but can also detonate any combos already primed on the enemies it hits. With the ability to be cast three times in a row in rapid succession, this makes the Jupiter Djinni's Unleash damage potential against multiple enemies completely unparalleled by the other Adepts. Visually it looks like a ball of pure lightning being shot out of the Jupiter Adept towards its foes.
Jupiter Djinn Summon - Eclipse
"A dragon whose wings span the skies."
The Jupiter Adept's Summon does noticeably more damage than the Mercury Adept's, but less than the Mars or Venus Adept's. Its benefit lies in its capability to detonate any primed combos within the blast radius - if the Jupiter Adept strikes as many enemies as possible with Thunder Mine and primes many of them for Tech Combos, the resulting combo detonations from the Eclipse Summon can provide widespread destruction. Although this damage potential requires a major combo with good timing and aim to pull off, the total damage dealt to a single target is potentially greater than even that of the Venus Adept's Judgement Summon.
On a side note, the Eclipse Summon has an added benefit of being the most visually spectacular out of the four Summons.
And there you have it! The four Angara Adept characters still waiting to be introduced to Mass Effect Andromeda's multiplayer! Which one are you most excited for? :amirite: