Post by Gwydden on Jan 14, 2019 22:49:43 GMT
For a moment there it seemed to me the WRPG world wasn't doing so hot. Bioware focusing on Anthem with DA4 who knows how many months/years away. CDPR getting backlash for Gwent's botched release with CP77 who knows how many months/years away. Obsidian and inXile's recent games not doing so well and their recent acquisition by Microsoft. Bethesda.
But turns out, the so-called CRPG renaissance isn't quite over yet. Tons of smaller devs are hard at work on promising games. The purpose of this thread is to bring attention to upcoming RPG releases that fans may be unaware of for both their benefit and the devs'. Most independent RPG developers appear to be constantly on the edge of financial collapse, and often don't receive enough attention until they're forced to either close up shop or accept a publisher's benevolent corporate overlordship. That said, feel free to bring up any relevant game you're intrigued by. Just because some of us have heard of it doesn't mean everyone has.
So, here's my opening salvo: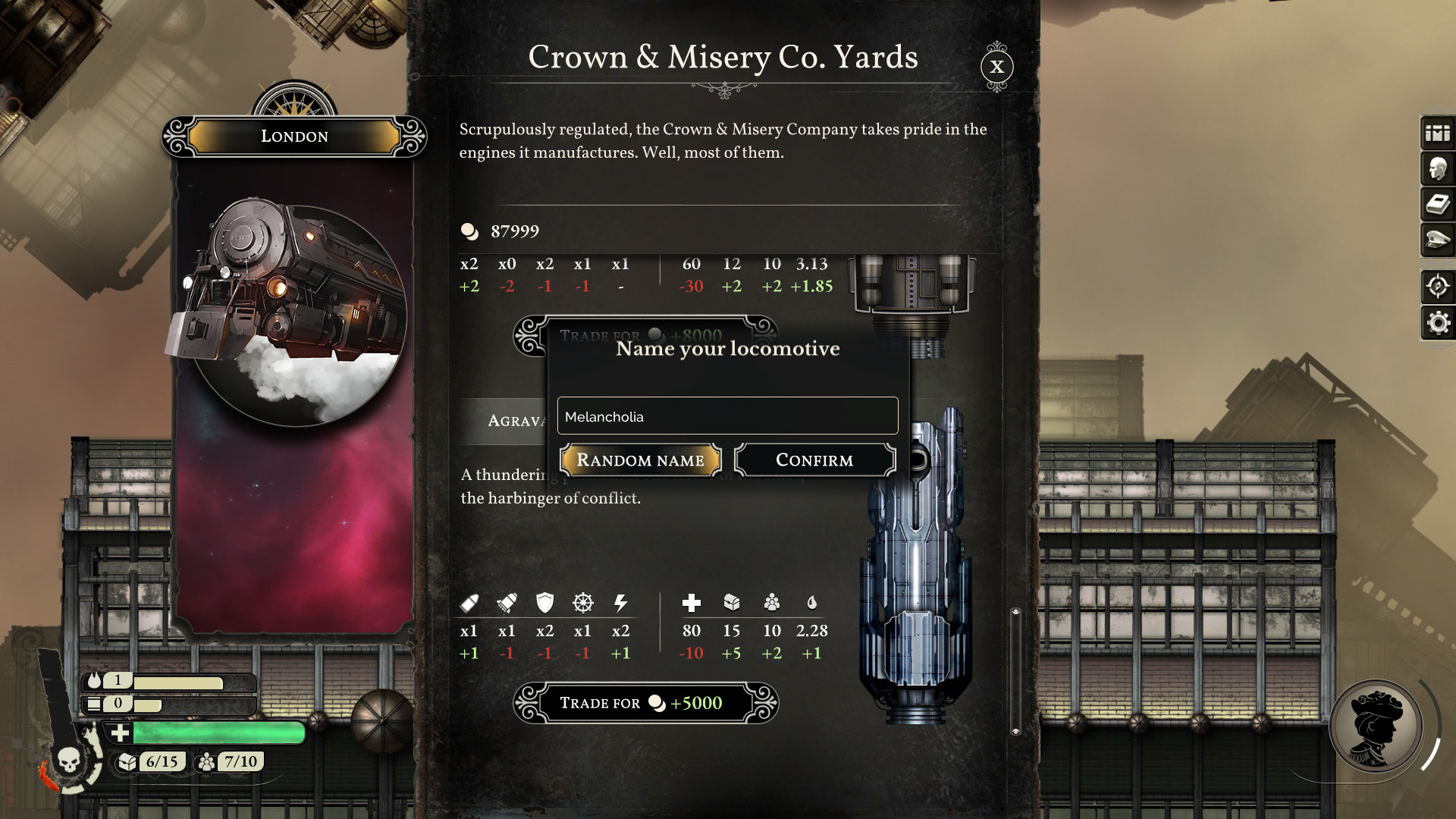 Sunless Skies
is a fantasy RPG by British developer Failbetter Games. It is a sort-of-sequel to their last release,
Sunless Sea
, which in turn was a spin-off of their
Fallen London
browser game.
Sunless Skies
is set in the High Wilderness, a pulpy,
fin-de-siècle
version of space. You (role)play the captain of a
spaceship
locomotive, or more likely a series of captains. Much like
Sunless Sea
, the gameplay's divided into two segments. In the roguelike part of the game you manage your ship, make sure is stocked up with fuel and supplies and manage your crew's terror as you travel from port to port in pursuit of profit and stories. These ports are the most common site of the text adventure sections, where you choose your character's actions and pass (or fail) skill checks based on your stats. This is a text-heavy game, and the interactive writing portions (pretty damn good, if they manage to maintain
Sunless Sea
's standard) are the game's highlight. That said, unlike some RPGs I can think of, the writing is not terribly self-indulgent and you'll never go long without making some kind of decision.
Sunless Skies
is already in early access and set to release on January 31.

Fallen Gods
is a somewhat similar game by Wormwood Studios. Again we're looking at a fantasy RPG that mixes roguelike and text adventure segments in its gameplay. The first key difference is the setting and general theme, which in
Fallen Gods
are heavily inspired by medieval Icelandic sagas and poetry. You play the titular fallen god, who needs to make his way back home within a three months time limit. Hence the second major distinction from
Sunless Skies
:
Fallen Gods
is meant to be short by RPG standards but have a lot of replayability. All of the content is handcrafted but its distribution around the map is procedurally generated. Your choices in character creation, the items you carry (all unique and possessed of special abilities), and the followers you collect will determine your ability to solve encounters in certain ways. But yet again, the writing and atmosphere are the main selling point, in no small part because it is not overwrought nor overdone. Release date is TBA, but I think there's a good chance it will come out this year.
I realize my bias is showing. These two games are unusual RPGs, but as long as the writers' craftsmanship can keep up the idea of a thematic, free-form adventure in an unusual fantasy setting is right up my alley. Here's a more traditional pick: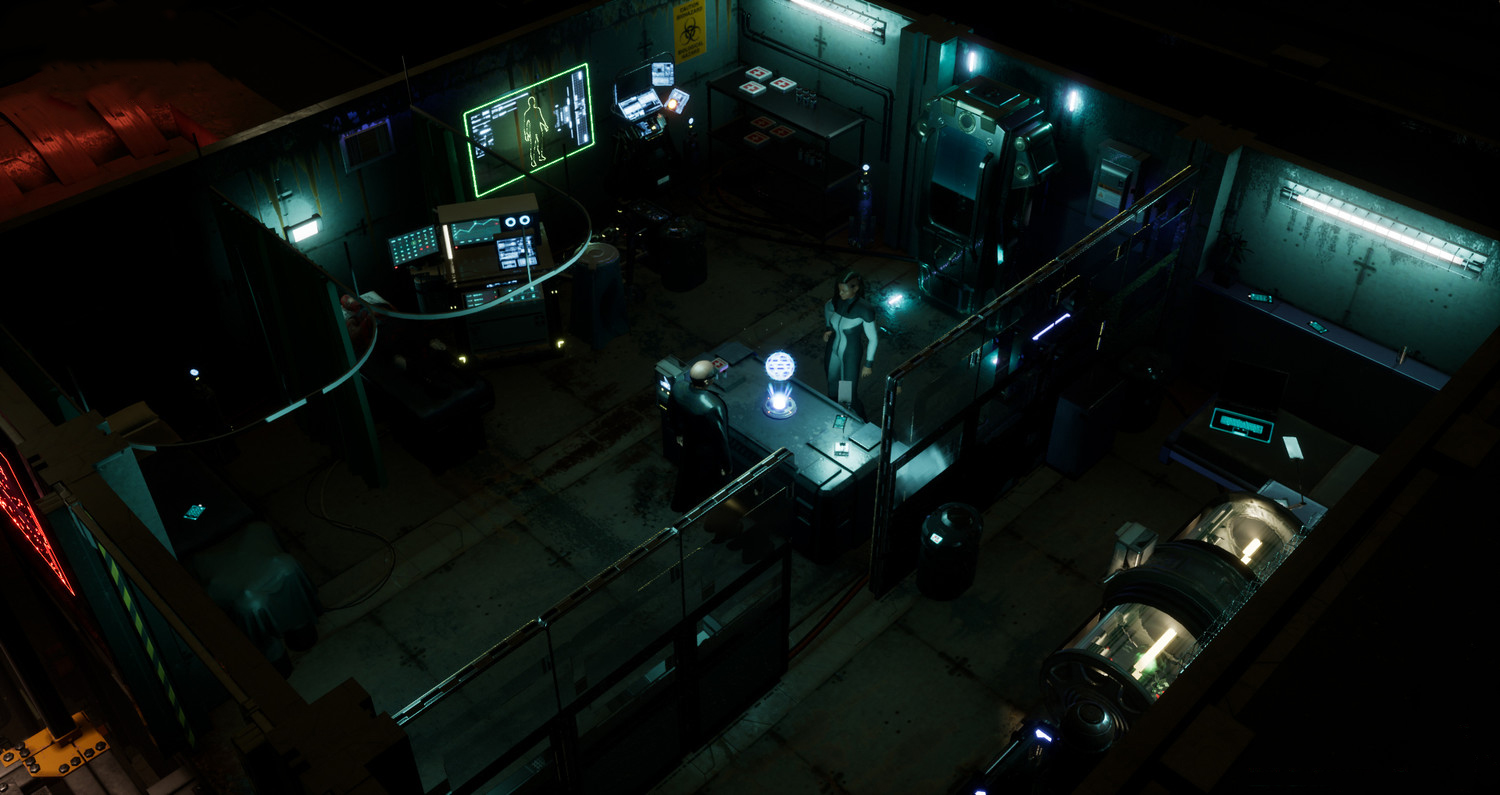 Colony Ship: A Post-Earth Roleplaying Game
is science fiction RPG by Iron Tower Studio, the folks behind
Age of Decadence
. Gameplay-wise it looks very
Fallout
-esque, with the ability to solve quests through turn-based combat, stealth, or diplomacy depending on how your character is specced, and a narrative focus on inter-factional conflict. The entire game takes place within a generation ship. Your character has never seen Earth, and will never see their destination in Proxima Centauri. The same goes for everyone they know. If the idea of an entire RPG confined to a single ship sounds claustrophobic, consider that there are many distinct areas planned within it, including improvised shanty towns in cargo holds, the abandoned wasteland that used to be Mission Control, or the overgrown biolab infested with genetic experiments grown out of control. There are regular updates in the developers' forums with more information. The game's planned to hit early access later this year and to have its full release in 2020.
Shoot with extreme prejudice.