Post by UEG ShadowAngel on Feb 5, 2019 16:54:39 GMT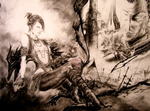 Outside of that there's a lot of games designed with abilities in mind, and as someone who plays a lot of shooters, 99% of anything new with abilities isn't that impressive as they just borrow off what's been done so creativity lacks.
RB6S (more equipment really they meet the same experience nonetheless), titanfall? The newer CoDs? Halo reach-5? Destiny? They all use abilities in some sense and anthem is pretty late to the ability party🤷 I guess I'll need filled in on how it'll benefit anthem.
Honestly if we had more than 3 abilities (4 if you count the ultimate) I'd feel more open to what anthems abilities could do, but I'm never going to be happy with 3 at a time as I find it extremely restrictive.
I also agree with river, people are going to see this lacking gunplay wise ability game or not. I doubt many will really view it much as an RPG and with the assumptions on competing vs destiny or the division, gunplay will be brought up a lot. It's easily the best Biowares done however.
Yeah, comparing Anthem to R6...same experience?

Bioware is building their game on the shoulders of their own games more than Halo or CoD. They're not late to the abilities game.
And since The Division very much is an arpg I don't see where the problem is? TCTD is a TPS/ARPG, if you don't build your character you will be hopelessly behind on the damage curve - just like - Anthem, you have to aim for weak spots - just like Anthem. The difference would be that you don't have to build loadouts for player killing.
Well I never said anthem and RB6S would be the same experience, I merely said anthems abilities fit the same role as other games that use abilities and or equipment, i'm comparing bone single aspect and nothing else between the two. The RB6S characters each have their own unique equipment to them and such that have their own purpose.
They're Indeed late as there's nothing special to it that I've seen. I haven't seen any article bringing it up, I haven't seen others on here bring it up and I myself have t seen it via the demo. The way I see it, they're doing abilities because that's how they've always done their games, I think doing a loot shooter without them would help stand out so long as they put something else in it's place as they're just gimmicks right now.
I'd argue on anthem NOT being built off the shoulders of Biowares other games but others have already shared the differences for me. This isn't anywhere close to resembling a Bioware game but I've been open and will be open to playing it day one to try it out to the fullest extent. Biowares done new IPs that don't resemble previous work before in dragon and and mass effect, they were hits so maybe the same goes for anthem🤷 I'm just not seeing it based off the demo itself.