Post by pinkjellybeans on Oct 3, 2017 12:56:47 GMT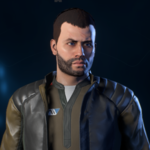 Have to agree here.
True. DAO did have that annoying character comment every-time you attacked. BUT....not every attack you made against them connected. Enemies dodged, had debuffs and had a variety of interesting attacks and could easily compensate whatever damage your party dealt. You had to think (most of the time) in order how to defeat a pack of darkspawn or even a boss.

When playing DAO, I recall, my party never just ran straight into battle, I had to think as to how I wanted to do this fight. I'd pass out buffs and run the tank in first. I'd keep an eye on my party's health and toss out damage and debuffs.

DA2 combat was better. Though I did feel it come off as kind of arcade style.

In DAI, all you did was drop a barrier and let the party run in. The most "thinking" you did was to move a tank over to an archer or maybe a mage. Then all you and your party did was bombard them with damage until they died. Unlike the previous two games, guzzling down lyrium/stamina potions was not need for two reasons: One, the fights never lasted that long and two there was a ridculious amount of auto-powers that renewed your stamina/lyrium.

So, what sets the other two games apart from DAI?

Well, I've said this before and I'll say it again: healing spells.

When you completely remove healing spells and change it to an excessive amount of auto/activate buffs, it makes combat less intense. The enemies are less interesting and are basically bopping you over the head with an inflatable hammer; while they just soak up the damage until they die.

When I notice a mage, cleric or druid has the opportunity to cast such healing spells, I know combat is going to be a challenge. Those spells would not be present if it was not. When you remove said spells the challenge in combat is nonexistent.

"Well, you can make enemies be more challenging in the options screen."

Ugh. I should not need to switch on an option to make combat more interesting. That should be in the game by default. Furthermore, since Bioware added in an option for the enemies to be interesting long after the game came out, it should be obvious combat is not good.

I want my combat to be a challenge.

I want to be able to think before just rushing in.

I don't want enemies just to stand there and soak up every hit and then just die.

And I most certainly want my damn tactics set-up menu back so combat does not feel like babysitting.

Bioware should take the good with DAO combat bits and mix it with the good combat bits of DA2 .

This whole MP/MMO style of combat should not be apart of a single player game -especially one with the RPG style. RPG single player games (even ones with companions) should work together to defeat the enemy and/or enemies using your mind. Not this whole, party mob rushes in and just beats enemies with a rolling pin until they can take no more. What is this? Tom and Jerry combat!?!

Most of us here are adults and I doubt anyone of us appreciates having are hand held when it comes to combat. Whats next for DA4? Bioware going to wipe my character's ass?!?

(shakes head).
I absolutely agree with this. DAO and DA2's combat are like night and day in a sense, but both were fun to me for different reasons.
I really liked that with DAO, sometimes I HAD to use the tactical camera, otherwise a certain enemy would just wipe out my entire party in seconds (remember those pesky mages with their crushing prisons and fireballs and archers that would stun everyone?). That was incredibly fun for me to actually think how I wanted to approach the fight and remove the biggest threats first. It was more satisfying too. The enemies were intelligent and really challenged you and made you think on your feet. The diversity in the skills, specially spells on mages, also made it much more interesting because you could achieve something in so many different ways.
In DA2 the combat was fast-paced but really fun too. The tactics were still there and you could do the same thing you did in DAO but it made more sense to me to go head on into fights and wreck everyone with a bunch of spells and crazy skills. Basically YOLO, if you please. Probably not as satisfying but incredibly fun and it made sense for a game like DA2.
In DAI the combat is just weird. Most of the times I can't use the tactical camera because it gets stuck in every rock and doesn't let you see past ceilings or anything, so I'm left with smashing buttons. Last night I went through the Descent DLC for the first time and during a fight (with waves of 5482159 darkspawn) I was honestly having dinner while just holding the attack button and pushing the skills buttons every now and then. It's boring. It's not as diverse and engaging as DAO and it's not as fast-paced and fun as DA2.
So yeah, I sort of agree with the OP but I don't think DA4 needs to be one or the other exclusively. They can combine both if they do it right. I'd prefer if the tactical elements would remain (an actual tactical camera that works and tactics) and then the combat itself could be more fast-paced like DA2 (please for the love of God let my character actually run with weapons drawn) with the enemy complexity and diversity of skills/spells of DAO. If not, then I'd prefer if it would go back to DAO's combat style but I'm willing to bet that is not going happen.