Post by davkar on Feb 12, 2018 22:45:13 GMT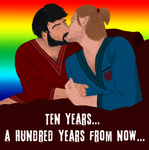 Sure Meredith is a paranoid bisss at this point (by default or the idols influence who knows for sure). Siding with her is a chance curb her bloodlust, to save lives, both innocent and mages. Hawke and co only killed those who deserved it/were beyond reason and redemption. Lots of the mages were just waiting for the greenlight to go crazy (see the route to the docks).
Saving Bethany is done out of love. Templar Carver showing some backbone is a similar deal, despite his constant bitching he does love Hawke. To let Meredith kill Beth... I don't know, you have to play the reddest of red ahole just for the sake of it and even then it wouldn't make sense. Orsino is dead, the blood mages are dead, the spared innocent mages can be sorted out later, she can call off the annulment. Now she wants to kill Hawke's sister because she's a mage? Gurl we helped you restore order, now kindly fok off. Defying Meredith also makes her turning against Hawke more 'acceptable'.

Oh, and Anders was nowhere near right. That ass had absolutely no moral high ground. Killing innocents to incite a war? How is that acceptable? You might as well endorse real life terrorism... Now if he had blown up the gates of the Gallows and rallied the mages on the main square with a "now or never, fight together brothers and sister fooh freedom!" speech then sure, I would support him. But for the needless mass murder he gets the mk every time. Too bad we didn't have the option for a more fitting punishment like tranquility or hanging. I don't even mind that Fiona gets the blame for the mage rebellion, this abomination deserves to be forgotten.
Meredith's mad by default, We know it already in Act1. The red lyrium only amplified her madness.
As I said: At the moment when Hawke must choose, S/He doesn't know, he had even a little chance to save any mages including Bethany. And not even knows, s/he gets a chance to kill her and save the city from her. Only s/he knows: there a madwoman, who will destroy the Circle, and kill every mage, and rule over the City.
If Hawke protects the mages, they don't want to stay, they will leave the coty so quicly as they able, this clear. So at the moment, Hawke can see if s/he supports the Mages:
Kirkwall will be saved from Meredith and from the mages. Kirkwall win.
Only Hawke lost his home (at the moment s/he doesn't know that, but can think that), but won a sister, who already free, and loves her brother for it. And doesn't feel as a burden... This is when Hawke protects Bethany. If s/he stand by her, not if s/he stand against her. This is the true love: let her to fight for herself, not "protect" her against her will. She's a mage, much more stronger than non-mage Hawke. She only needs some confirmation: she's not a burden, and she wants to fight.
Hawke can't trust Meredith: she proved, she's unreliable. Dumar was her puppet. Hawke can't believe her benevolence.
(Not everyone forgets Anders, after Kirkwall he and Hawke continued the fight and helped a lot to rebel the Circles. And this makes this romance the best of the whole series.)
Hawke doesn't have to know they'll have a chance to save Bethany because they wouldn't hurt her no matter what because they love her. Unconditionally. There is no bs about her being a burden or disrespecting her or whatever. If this was the case the Hawke family wouldn't have spent their whole life keeping her safe.
The problem with your Hawke pov is that at this point it's impossible to separate character knowledge from player knowledge. What you say is true in the very first pts when the two are still the same. But all right, let's play by your rules. When Meredith demands that Hawke pick a side she is just reacting (we could say overreacting, but again, that is post-game knowledge) to Anders' terrorist attack. Like I said, when Hawke sides with her their goal is only to minimize the damage and protect the civilians, not to aid her in slaughtering the mages of Kirkwall. There is an exchange with Merrill as she is the only one who opposes the templars where they say these ~exact lines to convince her (max approval, finished final comp quests scenario). The whole viscount argument is irrelevant; it's just an added bonus which is more of a burden than a reward for saving Kirkwall for the nth time. Hawke was probably in office for a few months/a year before going into hiding. Then again this is the DAI knowledge and there are continuity inconsistencies regarding Hawke's resignation (when Cullen was recruited, Cassie's interrogation of Varric, Cory plotting in the background etc.)
The main issue with the act3 choice is the presentation. The same old 'red is bad, blue is good' forced morality, that bw had been using since kotor (or even before that, kotor was my first bw game). Meredith is the bad choice personified and if you support her you are baaaad. Anders blows up the chantry but the poor thing is oppressed so you have to side with the mages to be good. DAI made a similar mistake with the recruit-conscript duality but thankfully this time they focused on the groups and deeds rather than the individuals. Sure Fiona bashing is a thing but she receives less flak than Meredith ever did. The same is true for the wardens choice but the 5 outcomes of the wicked e&h can be easily placed on the red-blue spectrum.
I expect DA4 to shake things up again (raise your hands if you promoted warden Alistair to king
) and clarify which DAI choices are the more/most beneficial for Thedas and which ones doesn't matter at all.
(Btw I'm willing to hear some valid reasons for defending mass murder. These ant's dick sized protests are a bit childish.
)