Post by Mithras on Dec 1, 2019 18:33:52 GMT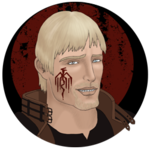 Mithras
Okay, just a question...
You or your sister would be happy in such a place?
You would feel, your sister safe in such a place under a madwoman whim?
I would feel concerned at first because I have heard unsavory rumors but if she then tells me that things aren't as bad you might think and that she has found happiness in there, I would believe her rather than believe I know better than her or that she is lying.

Now seriously: she loves to protect her family, friends. She loves to meet her fellows (she didn't really meet with many when they hid...), and she's able to see the best thing in everything: to teach and protect the children from the Templars. "I'm fine," she writes to Hawke and Leandra. She accepted her fate, she says in the Deep Roads, and doesn't want to make trouble (and her phylactery still in Meredith's hand).
Well, yeah, that's the whole point.
When people say that Bethany likes the Circle, they don't mean that she wouldn't rather be living in an estate on Hightown and taking her two kids to visit uncle Hawke on weekends. It means that she has found things to be happy about in the Circle such as being with her own kind, not having to hide, teaching the children, etc.
Joy found in less ideal situations is no less real or meaningful. And people who understand the limitations imposed upon them by life aren't broken or suffering from Stockholm's Syndrome.
But she thinks, the Circle is evil
No, you think the Circle is evil. Bethany likes it.
Ella... he escaped from the Circle... also, we don't know anything about her, only Bethany mentions her in her letter.

I'm not going to address every single point because it all boils down to "If you don't think like me, you must be mentally broken." but since you don't seem to be aware that if you send Ella to the Circle, she sends you a letter where she details how every other Templar is glad Alrik is gone, I am going to point it out.
Also unstable, like everyone who lived in the Circle, PTSD, you know

Oh, shut up. Being in a Circle doesn't give you PTSD or make you unstable.
"Good" mages? Who is "good"? What means "good"?
"Not Anders", for starters.
Also: the noble people's child get some dissease, also will find the way to do same thing like a mage
A noble wouldn't be able to use blood magic unless he hired an Apostate. In which case, the solution is to put the apostate in the Circle, not getting rid of it.
About if the anti-magical force far forms the accident: where was the heroic templar army from the Circle when Connor's accident happened?
And again: the system caused that problem, not only was not able to solve.

Lack of adherence to the system caused that problem. If Connor had been in the Circle, nothing would have happened.
I find it remarkable how you keep pointing out situations where if the mages had been the Circle, there wouldn't have been an issue as if they reinforce your point rather than mine.
My system is the only acceptable and effective solution. And safer than the Circle.
You haven't presented a system that I have seen. All you've said so far was "Let them go and we'll form some anti-magic force, kind of, I guess, I dunno know."
The Chantry isn't neutral. "Perrin [Threnhold] used the chains extending from "the Twins" at Kirkwall's harbour to block the Waking sea passage and charge large fees from Orlesian ships. Orlais threatened invasion, and the Divine Beatrix III, as a friend to the Orlesian emperor, used the templars to pressure Perrin."

Were mages used by either side? No.
Then does the Chantry keep the mages from using their powers to influence everyday political conflicts, which was my point? Yes.