Post by gothpunkboy89 on Nov 27, 2018 4:04:47 GMT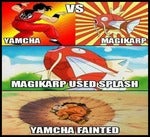 And that is why any attempt beyond dream world of people on forums will always fail. But hurt children who throw a tantrum that their ending or their choices might not have been picked to be the much needed foundation for the next story to be build on. I'm a Synthesis ending person myself but if they chose a Destroy ending to go with I wouldn't complain.
Narcissism. Pure grade A uncut narcissism of the players will always be the noose around this series and any potential future parts of it. The desperate need for validation of game choices by requiring the game developers to go with what you choose and getting upset if they choose anything different is something I will never understand. Nor do I think I will ever be capable of understanding anymore then I a man would be capable of understanding what it is like to be a woman.

I don't suppose it helps that I made a typo in the part you quoted. It should read "IMHO better than choosing one canon. In principle, I really respect Bioware for not welching out on a choice they gave us but instead writing a sequel game that still preserves all of those endings. I'm not going to a tantrum if they opt to choose a canon. It's their choice to make, but I will lose some respect for them... Specifically, the respect that they gained by not reneging on those choices. I think that's appropriate.
What ending I prefer is, IMO, totally irrelevant to the discussion. Different people did prefer different endings. No ending is unanimously the preference. There may be a majority that prefer the destroy ending, but I don't think that should give them the right to bully Bioware to renege on the other choices.
I also believe that they should stand by their chosen method for getting around the issue. It's done... we ARE beyond the problem and we should just move forward. That Andromeda itself was imperfect is again, irrelevant. Fans constantly requesting do-overs because they didn't like this or that about the games that have already been written does not get us anything new and exciting... it just mires us down into playing the same old games over and over again in slightly revised forms. What I really want is for the franchise to now move forward from where it's at... which is in Andromeda with the Initiative now in possession of Meridian. I want to explore something new... not redo anything. Bioware had a story planned that got around the ME3 endings when they wrote ME:A and a plan for future games. I think they should stick with THEIR plan... whatever it was.

BioWare doesn't renege on any choice. Your choices will always be valid for you and your choices will always be correct for you. BioWare picking specific path out of the dozens of possible paths to build a strong foundation on for the next series or to build on that strong foundation a more coherent story line doesn't negate a single choice you made. If you think it does then that is almost literally the video game equivalent of declaring your parent's don't love you anymore because they are deciding to have a second child. And because of BioWare's fear to upset the players they build Andromeda's foundation on sand. Having so little confidence in it they didn't even bother to think of DLC for the game.
A series build on sand because they are so desperate not to upset the loud one creates problems. Those problems will now follow any continuation of Andromeda much in the same way the lack of a fully planned out story line effected the OT across the entire series. The entire Andromeda Initiative is Cerberus going from a small Black Ops unit to a massive galactic spy agency with more funding and troops then most nations, while being able to take the little charred month long dead remains of someone and bringing them back to life perfectly all over again. Seriously a mysterious benefactor knows about the Reaper threat years before Shepard learns about it and so single handily bank rolls the entire Andromeda Initiative. They create super advanced tech to allow a ship to travel 600 years, master stasis technology which didn't exist before and a guy almost literally build the AI SAM in his garage. And even more he pushed technology to allow a neural interface with said AI pushing that shit into Synthesis ending level tech advancements.
Then most problems with Kett at least are because none of the ships are armed. Because why would a galaxy who experienced 2 (3 if you count Geth Uprising) large scale wars that nearly resulting the extinction of a single or multiple races bother to arm ships. Particularly when that benefactor wanted the Andromeda Initiative to be the back up for the Reaper Invasion. This is literally like building a car but forgetting to put breaks in it. It is literally creating the same problem as with the Reapers were we are again reduced to throwing stones against tanks. Only this case it isn't because one is millions of years more advanced it is just that one literally has tanks and the other side literally only has stones to throw. Pretty sure the Alliance First Fleet alone would have wiped the Kett from the Cluster in a single day.


Stuff like this creates problems down the road because how do you deal with the Kett when the Initiative isn't armed? When it would take decades to build a fleet of ships to be able to rival what the Kett Empire would have build up over the centuries they have existed. How will they travel the galaxy now given every ship will need to outfitted with the new ME engines and stasis pods because they don't have Relays and don't know how to build them. And that isn't counting how long it would take for populations to grow besides maybe Salarians. Kett could easily be sending a massive Fleet that could take a decade to reach the Cluster but in that time they would be able to out number and more importantly out gun the Andromeda initiative and easily wipe them out with superior force. Because the garden worlds are not build yet and pretty sure not everyone is even out of stasis yet by the end of ME:A. You would have to jump decades if not more into the future to have the Initiative build up enough to actually deal with the Kett who would have to politely send one small group of ships at a time towards the Initiative. Why do you think it's OK for them to alienate their fans by declaring a canon but not OK for them to alienate their fans by simply telling them they're sticking with the plan they devised for getting around the endings issue when they started ME:A?
Because one would allow them to lay the solid foundations for expanding the galaxy and story in a continuation of that preexisting galaxy. The other one bends it's self into a pretzel to try and avoid that creating inconsistencies and massive logical plot holes beyond what was remotely needed to justify it.
You tell me that 100 years after the end of the Reaper War were the Destroy ending was selected that the galaxy has rebuild and salvaged technology from the Reapers. Pushing technology a head by hundreds of years. Allowing them to build the technology of the Arks, Nexus, stasis tech and SAM. Who working together in the unity build during the war to plan and prepare the Nexus and Arks to be sent off to try and explore the Andromeda Galaxy full set up for all possible interactions (Including being armed increase of hostile threats). That at least makes logical sense.
How ever to avoid offending those people they instead just throw all that stuff into a time frame that makes no sense and has this benefactor know about the Reaper threat before they knew it was the Reapers and manage to bank roll it and send the Initiative to Andromeda with all the preparation of those aliens from the movie Signs. You know those ones that were fatally weak against water. The very thing that makes up 80% of our planet, falls from the sky and these beings who mastered interstellar travel was walking around butt ass naked on the most hostile possible planet for them.