Post by Catilina on Oct 29, 2016 19:55:16 GMT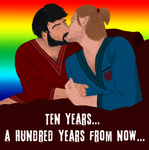 just for fun
fit better Vivienne's nature, than Anders'/JUSTICE's (!) nature this bullshit with Danarius. Anders and Fenris' hatred is a bullshit. Fenris also give 5 firendship points, if Hawke kill Anders in the Fade because Justice don't want to deal with demon. Fenris give 5 friendship points, if you blackmail the poor Thrask... this also bullshit.
In DA2 the writers did some incredible nonsense for the sake of drama.
And: I never said, that Anders totally flawless.
boy golly someone who can't decide if Divine Vivienne is Tevinter 2.0 or the biggest mage oppressor since Meredith thinks Vivienne killing people for fun is her nature while Anders' reaction to Fenris is apparently bullshit.
Well, it's one thing if it's just an approval nod. There are actions in all the games that grant bewildering approval. Like Sten approving of the blood magic ritual. Clearly doesn't make sense.
And then there's approval that's actually backed with dialogue. I don't see how the bitter relations between the pro-freedom mage who likes Tevinter and the elven Tevinter slave who was abused in every way by mages in said free mage promised land are "bullshit". It makes sense to me. Especially considering how volatile Anders is to virtually everyone else in the party except for Varric and a friendship path Hawke.
By Act 2, he's already been warped enough by Vengeance to almost or completely go through with killing a mage who calls him a demon. VengeanceAnders may as well approve of eliminating another obstacle against his poorly written mage rights manifesto as Fenris openly believes Meredith is doing the right thing.
Tevinter 2.0 Vivienne was an argument, a proof by contradiction. But still a real danger (Vivienne too much love the power...), and It does not preclude the possibility that she is an oppressor of the mages. Vivienne only likes the power and the Game.
Fenris is not a threat to Anders. He never would able to betray Hawke's friends. This is clear. And Anders don't LIKES Tevinter and don't likes slavery. Anders just want a freedom, and in Tevinter the mages live freely. Yes, he interest about Tevinter, but not "likes". The Tevinter amulet for him only the symbol of rebellion, and Hawke's gift. Anders don't want to go to Tevinter, Anders don't want to live in Tevinter. If he would likes tevinter so much, why don't want to live there? He want the freedom in Southern Thedas. He don't want magocracy, JUST free life, for all mages in Southern Thedas. And yes, this hatred is a bullshit. Yes, they are not the best friend, but for ten years playing cards together. For Hawke or/and Varric, probably yes, but still. Anders maybe jealous, but not evil. And Fenris also not evil, and don't want Ander's death. This stupid fierce rivalry just for the drama. For example, you think, Templar Carver HATE his pro-mage sister/brother? Of course NO.
And I can see, how the sweet relations between this Tevinter slave and a hard-line pro-mage Hawke...