Post by Terminator Force on Jan 2, 2019 11:01:29 GMT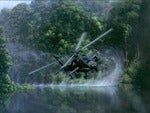 yeah it can and if you really push yourself then the high you get from the bodies natural opioids is intense, so intense that really fear based adrenaline or morphine is a poor substitute, for one thing once your into a groove of regular exercise a decent workout can give you a high that lasts several hours and you actually crave more of it no matter how tired you feel.... me I used to run or cycle every day, the only times I ever felt really out of sorts and run down was when I couldn't exercise (either due to work commitments or down to injuries) but I often ran cross country in the dark (hard not to when your getting up at 4 am just to fit exercise routine in) fortunately night vision wasn't a problem since there was never any traffic in that area (otherwise I would have bene truly rubber ducked) when I got injured the first time I loved the rehab time, 9 hours a day doing fitness, fantastic, of course I did more by cycling 12 miles each was between hte centre and where I lived... now I'm a cripple (although amazingly not down to exercise, no its down to poor travel and being overburdened on the march for months at a time, I mean really its not a surprise when your the platoon weapons specialist and the radio guy...when you lugging around over 70 kilos in gear and you only weigh in at around 100 kilos you know somethings going to buckle or end up weak)
now I get annoyed every time someone talks about fitness, it feels like there rubbing it in my face that I cant do one of the few things I actually really enjoyed, especially when it took my wife 3 years to badger me into giving up all that fitness gear I could never use again and we did need the space it was taking up.... feels like there rubbing their ableism in my face every time, makes me want to rage at them but of course I dont instead I try to ignore them because it isnt even their fault and even if they did have a clue there still just kids.....
ahh well at least I have hemp and morphine and chocolate and cookies and of course I can still have a few beers every now and then (not to often mind or my body might start to complain that I drop the morphine dosage when i'm drinking and the booze really doesnt make up the difference, well not in the limited amounts I drink) heh maybe this year i'll figure out how to loose some weight and be less disgusted with my overly large belly, then again ice cream and chocolate and cookies so probably not, ahh well at least I can read some nice fantasy books and maybe even find a game that doesnt suck bawls during this year, if not kindle might end up banning me for overusing the service (apparently 2>4 books a day is too much) ahh well fuck em if they cant take a joke they shouldn't have offered!
Because it's judging. When someone says you should try fitness, they are judging you by spotting flaws in your life. While we may have good intentions and advice, it is better to help out by example and lots of care in how we approach others about things by being meek.