Post by Heimdall on Jan 4, 2021 3:06:54 GMT
——————————————
Updated February 2023:
Playtest Leaks
——————————————
——————————————
Updated December 2022:
No Show at Game Awards, New Short Story, In-Game Cinematic
——————————————
——————————————
Updated October 2022:
Dragon Age Dreadwolf Alpha Milestone
——————————————
——————————————
Updated June 2022
: We have a Title! Dragon Age: Dreadwolf
——————————————
——————————————
Updated December 2021
: See bottom of the post for latest content
——————————————
The video is long, but there's a concise summary of the conclusions below



What we knew before 2020: (0:15)
Dragon Age Tevinter Nights: (2:56)
2020 EA Play Teaser: (22:00)
Behind the Scenes Trailer: (22:25)
DA Day Short Stories: (34:31)
Bioware 25 Years DA Morrison Page: (38:43)
2020 VGA Trailer: (40:21)
TLDW:
New Protagonist:

The new protagonist will likely be a Lord of Fortune, which have been shown to be human, elf, or dwarf (and presumably qunari)

The Inquisition has employed Lords of Fortune already in fighting against Fen'Harel

Varric has continued to serve the Inquisition including working with Lords of Fortune, and will likely return as an advisor


Possible Companions:

Evka Ivo (dwarven grey warden)

Lucanis Dellamorte (antivan crow)

Strife (dalish elf, possibly an agent of the Executors
unknown undead mage
unknown hornless qunari
unknown human male (rogue?)
unknown female qunari
unknown human female (mage?)

Prominent Locations:

Tevinter - Venatori remnants remain an issue in Tevinter hunted by Tevinter Templars, Fen'Harel's agents are still active

Unknown Red Lyrium Region - Cold region with Ferelden architecture seen to be infested with red lyrium and red lyrium infected darkspawn
Antiva - The Qunari have attacked the crows directly, the crows are going on the offensive

Nevarra City & the Grand Necropolis - No distinct plot threads, but they have been features too prominently not to be relevant
Weisshaupt Fortress - All available Wardens have been summoned to Weisshaupt for unknown reasons

Arlathan Forest - Magical disturbances have been occurring in Arlathan forest, in particular around sites connected to Ghilan'nain


The 'sea monster' is a creation of Ghilan'nain not a god (theory):


Ghilan'nain herself should still be trapped in the  Fade until the Veil is removed, but sites related to her are becoming active

The giant serpent monster is likely a surviving creation of Ghilan'nain, one of those spared her original extermination, which could explain the magical activity
The gray pools (Horror of Hormak) are specifically noted to smell of brine, seawater, which could suggest the influence of this sea monster


The Dread Wolf's Plan:

Fen'Harel's plan involves using the red lyrium idol, which is likely in his possession

The plan seems to involve influencing the spirits of the Fade en masse

Solas is actively encouraging the conflict between the qunari and Tevinter

Tweet January 8, 2021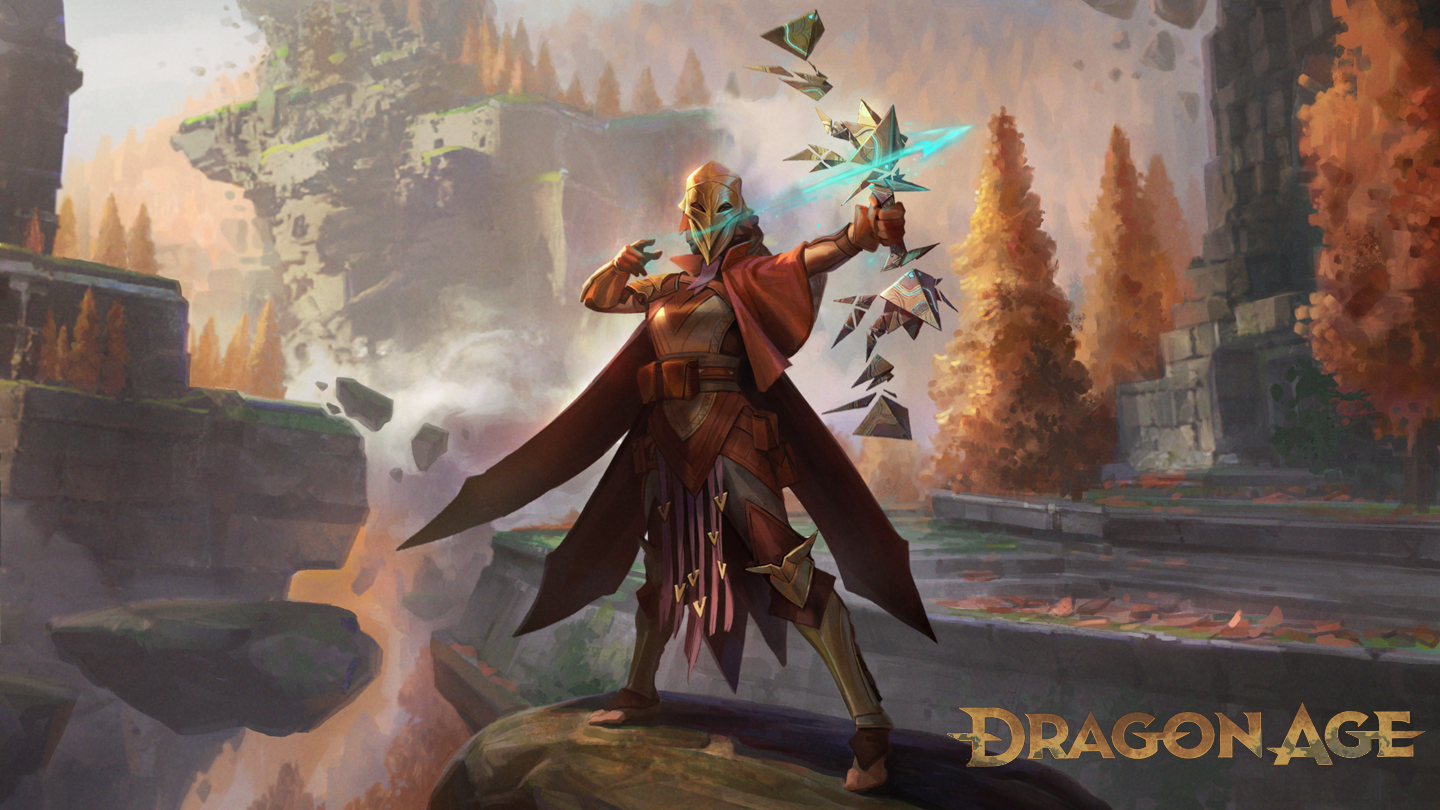 Something more you might want to add to your summary. This definitely seems a faction in the next game and bare feet would indicate elven but no way is this Dalish.  I've taken to calling them an Arcane Archer.
Also, look at what is happening to the landscape behind them.   It ties in with those floating aravels.   Either the Veil is coming down next game or we are going to have a flash back to an earlier time.  Maybe something confined to Arlathan Forest?   That short story indicated weird magic was happening there.
Courtesy of Christian Daily's Twitter
Between this and the floating aravel concept art, I suspect there may be some remaining hidden enclave of the ancient elves we'll end up meeting. A flashback is possible, but we did see a character with a similar bow show up in that darkspawn infested area. I'm not sure if this is a new character or perhaps a uniform of this particular group of elves. Though it is noted in Tevinter Nights that Solas has been providing his followers with what sounds like ancient elven armor, so I suppose that's possible.
——————————————
December 21, 2021 Update
So there was very little update this year, so I won't be doing a roundup video. I only produced two news videos this year since we haven't gotten much new content.
The first is basically announcing that BioWare wouldn't be at EA Play 2021 this past summer but at least looks at some new concept art released.
The second covers the new short stories released on DA Day (December 4th) 2021.
Dragon Age Discussion: EA Play 2021 Update
Dragon Age Discussion: DA Day 2021 (New Short Stories)
Summary
:
The new concept art points to definitive Antivan Crow involvement. That isn't surprising, but it's nice to have more confirmation.

The new short story gives us more Evka Ivo, a dwarf character originally introduced in Tevinter Nights. She has married her elven warden friend Antoine and apparently still hasn't gotten to Weisshaupt since then. Given how much she's showed up, there's a good chance she'll be a prominent character if not a companion.

The other short story involves two necromancers. It may hint at a plot involving two people connected by affection beyond the grave, but perhaps most importantly it takes place "thirty years ago" in 9:22. This implies the present (and starting date of Dragon Age 4) is 9:52, 8 years after Trespasser.
Speculation Videos
:
I also have some speculation videos if it interests anyone.  These don't contain new information, just speculations on what we've learned to this point.  These were recorded before the two news videos above:
Dragon Age Discussion: Plots of Dragon Age 4 - Tevinter


Dragon Age Discussion: Plots of Dragon Age 4 - Nevarra


Dragon Age Discussion: Plots of Dragon Age 4 - Antiva


Dragon Age Discussion: Plots of Dragon Age 4 - Grey Wardens


Dragon Age Discussion: Plots of Dragon Age 4 - The Executors & Monsters


Dragon Age Discussion: Plots of Dragon Age 4 - The Inquisition & The Dread Wolf, Solas' Plan


——————————————
June 2, 2022 Update
Official DA4 Title
My take:
——————————————
October 28, 2022 Update
Dragon Age Dreadwolf Alpha Milestone Official Blog Post:
www.ea.com/games/battlefield/battlefield-2042/amp/news/alpha-milestone?fbclid=IwAR2JmED1fFUy0t-cIMpi5BNeQCiIjQjeH_FN0walN5QZw-Lpr2sdufkL_00
My Take:
Dragon Age Dreadwolf Alpha Milestone:
- Dreadwolf is playable from beginning to end
- Many aspects of the visuals and gameplay systems are far from a finalized state
- devs seem excited to show us Minrathous
- General consensus seems to be a late 2023-early 2024 release window.
——————————————
December 21, 2022 Update
Dragon Age: Dreadwolf was a no show at the video game awards 2022, but the devs did release a new short story on the website and revealed a work-in-progress in-game cinematic on Dragon Age Day.
"As We Fly" Short Story:
www.ea.com/games/dragon-age/news/as-we-fly
In-Game Cinematic:
My take:
——————————————
December 21, 2022 Update
Coverage of the leaks from earlier this month. Avoid if you want to go in blind, or bough there isn't much in the way of plot leaks:
This is what I consider the most reliable takes from the leaks of the past few weeks. Potential spoilers for those that want to go in blind:

- Distinct action shift for the combat, God of War 2018 used as a reference
- 4 Character Party, but no direct control of companions as of these playtests
- No tactical camera or top down view
- Ability wheel allows players to select abilities for allies to use, similar to Mass Effect
- "Andromeda with Melee" as one leaker described
- One mission will involve an attack on Weisshaupt Fortress by red Lyrium infused darkspawn and a dragon
- The Player Character's name is "Rook" (Possibly a code name rather than the character's actual name)
- Grey Warden may be a background option for the PC