Post by CrutchCricket on Jul 18, 2017 15:52:02 GMT
I do agree that is sad they didn't bring anyone back. I would have loved to see them in the background of the funeral, or down some side alley when your escaping.
From what I've been able to find, Piero had a brain fever thing. The heart in the first game alludes to it at some point. And he died of that, shortly after the first game.
I would've much rather had Piero back as my gadget guy (or had a gadget guy at all) rather than the black market mechanic. I think they still could've had the black markets for items, blueprints you might have missed from previous levels or special items like the favors thing brought over from the DLC. As it is, it's a little weird that you're trusting your upgrades to rando black market dealers some of which could con you or be conned themselves (like the lady Paolo visits). On the other hand, robbing them is fun.
Speaking of which, let's do my summary for the DLC. Obviously again, here be spoilers.

Dishonored: Knife of Dunwall and Brigmore Witches
Playing the "opposing force" in a game is usually an interesting reversal, and it's no different here. Daud was fun to play as, enough differences to be interesting but enough carried over to make you feel like a pro from the get go (as it should be). Being voiced (by Michael Madsen no less) was definitely a plus and Arkane really had the right idea with voicing the protagonist (they just thought of it too late for Corvo). The story was of course intriguing and of course appropriate, given his character development in the base game. And I enjoyed his upgraded and consolidated powers (I thought I'd never go back to Corvo's freeze-timeless blink for example) although I did feel kind of blind without Void Gaze actually showing me enemy positions in the first rank. Pull was fun and carried more utility than Windblast (on a stealthy run). I never upgraded it because remote pickpocketing guards was much too appealing over just yanking them outright. And Summon Assassin I barely used apart from boss battles, though I might give it more of a go next run. The way the upgrades and favors were done was interesting, obviously a precursor to the black market system in the second game, though I maintain with a bit more justification as the network that gave Daud his upgrades and favors was his and they presumably knew the price of screwing with him.
Also a bit more releasing was worrying less about killing guards and the like. Daud's a paid killer, if there's things in his way, he removes them. Permanently. He's not a thug so I still didn't go full psycho, kept to my stealth. But I was a lot more forgiving of mistakes and being spotted. Plus, with Shadow Kill, killing became a much more convenient way of getting rid of pesky guards. So I ended up with a stealth high chaos in both DLCs. Which frankly made perfect sense to me. For one it lent another dimension to Billie Lurk trying to take over. She mentions Daud slipping and this being the perfect chance to take over. I took that to mean (in part) my clumsy blunders getting detected. At his peak no one would see Daud until it was too late. But now he seems slower, less sharp and sloppy, getting spotted and being forced to kill more guards then he has to. Plus all the story stuff of course, seeming more moody and erratic from her point of view and pursuing this Delilah business at no perceivable practical gain.
So now onto the noteworthy choices:
Rothwild:
Interrogated him in the chair, then killed him. I had come across him questioning Abigail and knocked him out. Speaking with her gave me the opportunity to blow the factory. I had intended to interrogate and finish him and then blow the factory because clearly that wasn't a sane place. However these were obviously mutually exclusive outcomes. I tried to do it after anyway similar to the Burrows solution but I couldn't find all four blast points. All for the best as apparently (and obviously, in retrospect) blowing the factory entails huge collateral damage.
-
Killed the whale:
did it for the Granny recipe but yeah, that was pretty fucked up, it was obviously bleeding out slowly, only prolonging its suffering.
Timish:
Killing him would've been nothing, but apparently Daud is not without his own sense of Serkonan irony. Given the opportunity to evict and arrest Timish for the same shit he pulled on others was something too funny to pass up. Also I robbed that sucker blind. Most of my time on that mission was just looting every possible room. Of course by that point I was doing that everywhere, but still. Also, a nice touch was saving Thalia from the Hatters. Always good to see an NPC talking me up and allowing me the opportunity to prove her right.
Overseers:
A case of second verse, same as the first. Daud was no less brutal than Corvo would be some time later, slaughtering every invader for daring to move against his people. Rescued all assassins. Killed the Leeroy Jenkins Overseer Hume with little trouble. Spared the captured overseers, for information.
Billie Lurk
: Ah Billie. You thought Daud was slipping, that he was weak. You gambled it all on that assumption. You were sorely mistaken. And as anyone else, you get what's coming to you. I think Daud was disappointed, betrayed and yes, deeply saddened. But he ended her nonetheless. You make your choices, you take the consequences. No more, no less.
Dream Corvo:
In High Chaos you can't beat him, apparently. Which given how things turn out makes sense to me. I still kick his ass, but then he breaks my arm and owns me. Good animations.
Lizzie Stride:
Rescuing her was pretty easy, all things considered. I got the Overseer disguise and her cell was close to the room just before the interrogation room, with plenty of ledges and beams to blink across.
-Rescued the guards about to be executed.
I think one of them got himself killed anyway making a run for it, but hey, not my problem.
Wakefield:
Ridiculously easy to kill, once you get to him.
Trimble:
Accidentally set an alarm off poking through his stuff. He came running right into my knife (of Dunwall).
Geezer:
Turned off his life support. Yeah it killed a bunch of people, but that was a pretty brutal way to live.
-Did the Granny Ritual.
Yeah I pretty much just expored everything this map had to offer and then did things. No real strong convictions or justifications for my actions. Which, could be a way Daud looks at it I suppose. All of this is incidental, means to an end.
Delilah:
As with Corvo going into the Flooded District, Daud goes all Predator on every which he finds, on the grounds that they're too dangerous to live. And of course the same logic is applied to Delilah herself. I stealth stabbed her with no hesitation. Of course that turned out to be a clone or something because then I had to fight her. So on and on it went until I stabbed her again.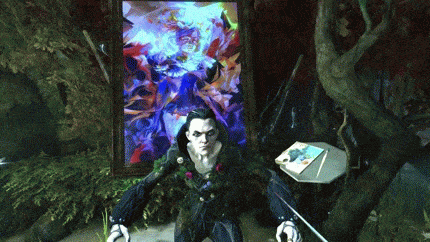 C
orvo (for real this time):
No real surprise, he killed me. Not the way I did it in the original game, but still, it ended the way I expected it too. Being the unsung hero is of course bittersweet, but again, Daud said it best:
"We make our choices and take what comes and the rest is void."