Post by BloodOfShiagur on Aug 28, 2017 1:06:14 GMT

Yep, that explains it all. You've obviously learned well.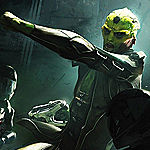 pines
for Revan and we learn later that they die alone and unknowing? After Dragon Age Origins, I'm a bit tired of the old "and PC disappeared, never to be seen again!". Can't we just imagine that wherever Ryder is, Reyes is there, too? I want more Reyes, I do, but mostly for my Ryder's sake. This also made me so angry in Inquisition. I can see how Anders and Sebastian have reasons for not being with Hawke during that game's events, but Merrill, Isabela, and Fenris should have no business being anywhere else.
Also, guys, guys! I had somebody make cover art for my fic:
Source.
I'm going to be posting the
last
next piece tomorrow morning (too tired from catching up here to proofread tonight and it's been written for like 2 weeks).
Isabella can be excused too, she's hard to keep in one place but Fenris and Merill make no damn sense whatsoever. But it's still the minor offense in comparison with someone turning my dear sarcastic chaotic good protagonist into a complete and utter moron. Hope it doesn't occur to anybody to do a similar thing to Ryder.

But by now the PC disappearance is such a trope that if there's ever another ME not featuring Ryder, they will surely have mysteriously disappeared.
That's some lovely art... they both look great in there.
But how does something like that get pulled off? Yay, is the new chapter going to be the alone in the shuttle one? Might be good...

Maybe if I just rushed the post-Kadara stuff in order to meet him again during the final fight ASAP...
Seems sound

Definitely better than nothing.
It has other uses too, such as Ryder brushing off their AI's nosey personal questions.

It's unsure where it reports its findings anyway... But the addtional Kaetus content you mention includes exactly one question and a datapad, which is probably not much of a payoff. I can't even recall if he appears in the final battle.
Yeah, quite funny, you'd say everyone would like to decide these things for themselves.. but some people don't feel strongly about the characters and just want their achievement with minimal annoyance, perhaps. But I'd definitely say it's possible for him to grow on you even in the little time he has. Happened to me, keeps happening to me actually (with Reyes. That guy just seems the more intriguing the mor one thinks about him... and there's been lots of thinking about him going on this summer

). I don't know if I've ever chosen a LI for my character without several scenes passing anyway. Unless someone gets extremely turned off by winks, I don't see why not. If Reyes is divisive, surely it's not because of that one scene?
What else. It could be a situation where he'd put Ryder in a hard place between the interests of the Collective and the Initiative, like causing Ryder to be implicit in something detrimental towards the AI. Something that would make the Nexus question Ryder's loyalties or suspect that she/he is corrupt. On the other hand, Reyes has got to be smart about the trouble he could land in such a situation, and I think he'd be cautious against doing anything like that.
What break-up worthy do you think he might do?
Hmm, that's actually harder to say than it looks...
If we consider that Ryder should be pretty much prepared for anything after High noon (practicality) and Reyes won't act to endanger the relationship, what's the worst that can happen? (Heh, that's why I fell back on joking when I mentioned it, I guess)
The divided loyalties seem likely, but I can't imagine such a situation. The Collective are spies and maybe information brokers and Nexus is more like a single faction in no real competition with anyone such a business can profit from (they probably won't deal MW secrets to the Kett or the Black hole Cthulhu). Can't imagine how they could damage the AI in any notable fashion. It would be nice to think they aren't even stealing from the Nexus anymore either so here would such a conflict arise from? I can see Ryder having problems with the Nexus leadership being suspicious about their affair with Reyes indeed, but if that would damage their relationship, it would have to be due to Ryder and their need to stay on the Nexus' good side, which would be quite jerky of Ryder, really...
On the other hand what if Reyes got into such divided loyalties conflict? I guess the Collective is still more vulnerable than the Nexus in a way... one would suspect that with the care Reyes seems to put into the relationship he'd have some trouble cutting Ryder loose should working with them turn unprofitable/detrimental for him or his operation, but then he's always admitted being greedy... Not that I could imagine any such case either. The AI's and the Collective' activities and interests simply don't seem to cross for the time being...
That said, I like your murder suggestion, that would make sense. I can totally imagine Ryder doing something like that though. If they agreed to Reyes killing Sloane it could seem like they care more about Reyes than his methods.
It could even work with the faction conflict, as in someone important to the AI messed with the Collective too in some way, got what was coming to them, Ryder knew and did nothing once again... drama incoming. Could that be break-up worthy? I don't know, I'd like to think Ryder knows what their lover is about and can deal with it accordingly. Hmmm, perhaps the only thing I can really imagine to sour things would be Reyes/the Collective (perhaps even unwittingly) harming someone else Ryder cares about (like their twin) that seems like the only plausible thing worth some rethiking on Ryder's part...
And by the way, I'd totally hate it if it were Reyes who killed Garson. It would just feel foolishly convenient, as in he's there and he's shady, of course he's the murderer. He also traveled in time for the hell of it, gave the Leviathan AI ideas and created the scourge in the meantime... Bah, I hate this kind of narrative.

), it's that Reyes genuinely is better than what Zia thinks.
Well, he most likely really is better than Zia would give him credit for but Ryder can in no way be sure of that at that point

But hey, anyone is entitled to their lucky guess once in a while. As I recall it's like the only time he seems real upset (when he snaps at Zia, quite protective of Ryder's fine sentiment

). But thinking about Zia and Keema being able to tell right away how Reyes feels about Ryder, it's strange. Wasn't he supposed to be the encrypted one? Seems Ryder's got him so smitten even his totally untrustworthy "ally" and his ex associate who wants him dead can read him easily. Not only Ryder is dangerously blinded I'll say.

aren't
utterly enthralled by the shady, Machiavellian spymaster-ish crime lord?

Muhehee. Being enthralled and awe-struck is one thing, getting paranoid about one's chances of survival facing such a person is quite another one

Reyes as the sublime, funny thought. Think he actually knows Machiavelli?

I for one am fine with the though of Reyes for Reyes' sake. It's Reyes that matters, not his purpose, right?

…Or are we?

Now the emphasis on stoicism doesn't mean I'm backpedaling on my earlier words, just reining them in a bit lest I over-analyze as is my wont. See my second paragraph (the one starting with "Does what happen"), I spent a lot of time molding it into a coherent argument on this!

Stoic demeanor doesn't mean he can't be messed with nor that he's not inwardly in turmoil. Also one further point in favor of my position: he's so upset about his body that he totaled his mirror. Yep, he's absolutely all over the place mentally.
But other than that, I'm glad we've reached a sort of consensus or compromise at least.


I'm curious.
With me, it depends on the quality of the writing whether or not I'm unhappy with a character or with the writer. Take Kai Leng, for an example. Some people said it was cathartic to finally kill him, but all I ever was capable of seeing was an incredibly badly written piece of crap, and even the interrupt kill felt like I was forced to make my Shepard care too much about this fucking joke. MEA has less grating examples, so there I'm both irritated at PB as a character but also partly at the writers who decided that no conflict exists nor are any personnel choices by Ryder ever allowed. Among this sort of company, Jensen getting shoved after a momentary indecision barely registers on my radar; the stuff that takes me most out of him is the ex-gf thing, but even so its just a side flavor to him doing his day-job.
I guess that if I actually like a game protagonist, I usually empathize extremely strongly with them, and subsequently forgive a lot. I like Jensen more than Ryder, since for e.g. the latter just smiles beamingly like a cracked turnip when Addison asks about Alec dying, while Jensen shows some restrained but visible dismay and almost indiscernible shift in voice when he learns An Upsetting Thing - a very distinct difference in quality in both writing, acting and animation. I know I know, it's also highly dependent on personal taste.
And Ryder has the advantage of getting Reyes, instead of pining for an ex that probably was up to something suspicious anyway.

But you doomed Reyes to near certain death! Twice! That's just the worst.

Bah, Pritchard seems even less hug-prone than Jensen.

And they dislike each other glaringly. Which doesn't matter to the deranged part of my brain that wants to ship them together. >_< Well, maybe the waifu can hug him when they're finally reunited.
Oh and I've reached a part where Jensen did a really questionable thing, far worse than the not considering a panic room moment, and I think
Zitrus
will know what I mean. Nonetheless, I still sympathize with jensen and hope we'll get out of this pickle too lol.
Well, it seemed like that since you acknowledged Zitrus' reponse in that matter and unless I'm misreading that actually argued he's just too calm to apprehend the dragon queen no matter what she may be up to (and it's still a bad move, or lack of one, lol) hinting at no further turmoil. Which seemed strange when you were trying to defend him from a quite diffrent position before. Yeah,the argument's been harmonized. The things one finds out in the spolier section of the Reyes thread


... Do they ever say that's what happened to the mirror though? Could've been anything, you know.

I liked killing Kai Leng. Not for any catharsis but because he was just that fucking annoying. A badly written piece of shit deserves to die a horrible death,wouldn't you agree?

GF things are generally the worst... especially when you can't understand for the world why those people would go to such lengths to finds those annoying generic bitches in the first place (I still carry that trauma from the Darkness II, I swear I weathered that game just because of the fun gameplay and the interesting non-gf parts)

Surprisingly Jensen is a very minor offender in this, he makes only a reasonable amount of fuss (Her mother amused me though. Such calm. My daughter is dead, lol, whatever. Hey Jensen you seem unoccupied, mind looking into it a little?). And yeah, she's definitely suspicious. The first thing I told myself even before re-examining the quest or getting to know she was still alive was that she most likely got herself kidnapped or something...
Btw, I can't help but ask what is it that gets you so irrtated about PB? Does her sitting on Ryder have much to do with it or is it just that you can't stand her altogether?

I wouldn't really compare Ryder and Jensen as protagonists due to genre though. To me, Jensen is Jensen, as offered, he can only be observed and you have no power over him. In anything at least reminiscent of RPG I take what I'm given and reinterpret and paraphrase it to my tastes, taking a shitload of liberties with the scenario along the way, making it generally a characterization exercise with the result I usually care about because despite following at least the most necessary guidelines, the PC in game only becomes the necessarily simplified reflection of what I headcanonicly imagine them. (Might I just say Ryder's a fucking hard work in that regard. So little room to play). "Ryder" as a protagonist doesn't really exist to me the same way Adam Jensen does. But then I'm generally quite obssessed with all my stories and such.
Heh, yeah, it's pretty bad

At my defense, I didn't do it out of lack of mercy for that intruiguing character, but because it felt wrong for the character I had at that given point (this time I'm making it different), so it was actually selfish and not heartless

Somebody should at least suggest hugging to them. The looks on their faces wouldbe priceless. I don't usually ship characters like that but Jensen and Pritchard really just have it coming with that behavior

Besides, Pritchard would make a good LI.. (but I guess Mallik is fine too)
My four games mostly for story/themes/atmosphere/characters and in one case because that kind of narrative is so totally up my alley. Tragic it's virtually unplayable now.
-Vampire, the Masquerade: Bloodlines
-NW2: Mask of the Betrayer
-The Bard's tale
-FO: New Vegas
(plus an honorable mention to the Interesting NPCs mod for Skyrim, because it's funny to see a mod overshadow a huge part of any official game writing I've ever seen)
I hope my lack of quotes doesn't make it too messy, I'm sorry if it does. At this point I'm getting paranoind about the internet crashing on me if I do too much stuff