Post by riverdaleswhiteflash on Jan 7, 2017 11:10:08 GMT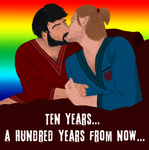 It really isn't. That's me really holding back about what that abomination known as Anders is.
Depends if you are friends or rivals with Anders. If rivals, then yes Justice takes control. If friends, Anders does it of his own free will.
You can hesitate all you want. They planned to kill hundreds of innocent people to have thousands more innocent people killed to send a message and cause a war across the entire continent that cost or ruin countless lives. I'd argue that is for the wrong reasons. If anything, monster isn't a strong enough word for how terrible they are.
Nothing wrong with starting a revolution after 1000 years oppression. The Chantry killed much more people.
I know, the people likes better, if the violence stay behind the doors, and/or covered by "law". This is much more acceptable and civilized (this called: "peace"!) than a man, who try to do something against this (how evil, who disrupts this "peace"!).
Even if the Chantry has killed more people than the Mage-Templar war has, how is that an argument for more killing? I'd especially like to know how that's an argument for more widespread killing. The problem is that in addition to the violence Anders disapproved of staying behind closed doors, it only had a very serious effect on a minority of the population. As I understand it, Cullen admits that if anything like a significant percentage of the population were mages, the Circles would be unworkable. (And as an aside I wouldn't be as concerned by the thought of potential abominations loose in a city if any mage that turned and started wrecking shit was guaranteed to have two or three mages in shouting distance of him.) Meanwhile the entire population felt the heat of the Mage-Templar war. And if mage freedom goes the way the Pro-Templars predict rather than the way Pro-Mages predict, the entire population could be feeling yet more heat for a while to come.
The mage rebellion was justified if the deaths that result from that are fewer than the deaths that would have resulted from the situation continuing to work as it did. (The deaths that happened because of the system before the mage rebellion started are evidence of how many deaths would have resulted from the situation continuing, but they shouldn't be used to justify the rebellion in and of themselves because the mages who are already dead can't benefit from the rebellion or be further harmed by the system.) I don't like a lot of the way the situation worked before, but at least most of the heat was directed towards a small group. The mage rebellion resulted in a lot more heat towards that small group in the short term, plus a lot more heat towards everyone else. The new system is going to have to work really well to save more lives than creating it destroyed. And every time a mage who would otherwise have been in the Circles starts using magic to harm others, or goes abomination in a crowded area, the cost of making that slim minority's lives better grows.
And it only gets worse when you consider that the mage rebels seem to have passed over at least one option that could have made things better for them without making things much worse for everyone else. Fiona never considers trying to insinuate herself into the Divine's confidence, and in fact says "Fuck the Divine" in so many words when the idea of trying to do appeal to her is raised. If Fiona had done otherwise, the Divine could have reined in the Templars and gotten Fiona much of what she wanted without a drop of mage blood, Templar blood, or mundane blood being spilled. By the same token I think Anders could have made the Gallows a much better place if he'd found a way to hit Meredith (but not Cullen) with the gaatlok bomb instead of Elthina. The sanest Templar in Kirkwall suddenly gets control of the system, and when Elthina and Orsino suggest reasonable ways of making the mages lives better he presumably listens. The system is suddenly improved for the slim minority who need to be subject to it, without cost to the vast majority it protects.
Monster? How you call that person, who assisted the templar's amuck actively or by silence?
It depends on how and why. Elthina I'd call ineffective and far too patient with one of the real monsters in Kirkwall. Orsino I'd call a tragic monster, who got where he was with good intentions, but nonetheless aided and abetted the exact thing the Circles exist to protect others from, thus giving Meredith yet more ammunition against the mages instead of providing a counterexample to her narrative of the innate corruption of all mages. (This assumes we can trust a word he says about why he shielded Quentin of course.)
And if you're asking what I call the non-mage civilians who accepted the system, and who couldn't have helped the mages much anyway, I call them civilians.