Post by Gludipow on May 14, 2020 9:11:02 GMT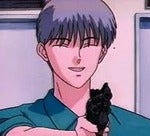 <abbr class="o-timestamp time" title="Apr 16, 2019 11:27:33 GMT -4" data-timestamp="1555428453000">Apr 16, 2019 11:27:33 GMT -4</abbr>
sandwichtern
said:I haven't played the romance myself, but your angle seems like a good one on how to look at it. Also, always nice to have a new Andromeda MV from you. 
Oh, gosh, I hope no one thinks I see Jaal as working only with emotionally starved Ryders. For that particular song it it worked for Ryder to be somewhat isolated. I can totally see Jaal complementing outgoing and expansive Ryders who want to yell how much they love him across the room and be best sniper couple with him. Or really any Ryder apart from my "no public displays of affection, please" Sara. She was probably the worst character I could have chosen to try his romance with.

Just speaking as a rather reserved person myself (I was raised in a family where we didn't hug or say "I love you"... ever) I found that I personally connected to the romance best when I thought about its similarities to my relationship with my spouse (except Jaal turns everything up to 11 when we're more like 5-is-high-enough people). Having someone who you can be affectionate and open with is a big deal when you're not used to doing either thing with anyone, and it makes for a much happier and healthier life.

Thank you for your kind words!

If you try the romance, let me know what you think!
Sorry, late to the party but I think when Jaal talks about how open the Angara are with their feelings, that probably should have been a hint that introverts might not like his romance. Or any romance with an Angara, I would think. Because the majority of them probably show affection in the same way Jaal does. That's not a criticism, just an observation. The only exception I could see is maybe Evfra, but even him I could see wanting to snuggle publicly.
My only complaint about the Sara x Jaal romance is that last scene. I really feel like climbing him like a tree and swinging around should have been a reaction move like choosing whether or not to shoot Akksul. I would have liked a more tender moment at the end between them. I understand the desire and need to celebrate, but Jaal could have just picked her up and swung her around in a circle happily before putting her down and kissing her. Would have had the same impact and would have been a much sweeter interaction imo.
But for my Ryder, one of the reasons she came to Andromeda was the desire to meet new species and learn about a new culture. Growing up on the Citadel inspired that fascination.
So immediately upon meeting the Angara she wanted to learn about them. That desire had her adapting to how Angara viewed and expressed emotion. For my Ryder, she was used to keeping a majority of her thoughts and feelings to herself, with the exception of SAM who almost knew her better than the majority of the crew (except perhaps Lexi) and even her family. She was more analytical than sentimental.
Then came Jaal who brought to light a different way of expressing thoughts and emotions. It took a bit for her to open up to a point that was close to Angaran, but how Jaal handled her thoughts and feelings when she expressed them with such care and thoughtfulness- it was both touching and refreshing. I think it was about then that she started to think of him as more than just a friend.