Post by Sifr on Jul 22, 2018 22:54:59 GMT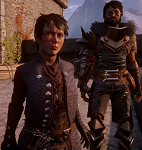 And when he wasn't burdened with the enormous drag of Clara being around, desperately trying to be "the Doctor" instead of him, while the plot contrived reasons why she was the most important woman in the Doctor's life/universe... y'know, when Moffat the show actually remembered that Peter Capaldi was meant to be playing the Doctor, not Jenna Coleman.
Capaldi was great as the Doctor, but he deserved far better writing than what he was frequently given and not to be sidelined for his own companion half the time.

I hated Clara because, yes, the show became about her and how "special" she was. Was very glad when she bit it, not so very happy when she was brought back like, next episode.
I had the same issue with Amy Pond. The show was about her, not the Doctor.

I don't think Amy was subjected to nearly the amount of character shilling that Clara (or Rose before here) received.
As Eleven mentions in their penultimate episodes together, Amy was the first person he encountered in that regeneration, so she held a special place in his hearts. The cracks in the universe throughout S5 also seemed to centre around her and we see several times that the Doctor felt responsible for screwing up her entire childhood, due to her obsession with her "imaginary" friend making everyone think she was crazy (and causing her to go through four psychologists).

Eleventh's protectiveness towards Amy therefore was fitting, because she was screwed up and it was all his fault. His entire confession to her in "God Complex" revolves around Eleven breaking the illusion that he's worthy of her misplaced devotion and apologising for what he put her through.

The difference between how the show handled Amy compared to Clara is that Amy's faults were presented and acknowledged, whereas Clara's were only barely acknowledged and often ignored or downplayed immediately afterwards.

She spent most of Series 8 being borderline abusive to the Twelfth Doctor (initially rejecting him for not being Eleven and then constantly bickering with him all season), then engaged in self-destructive behaviour throughout S9 and the show/writers never seemed to be aware of how unhealthy or toxic this relationship had become.

Only the Master and Ashildr ever call out how the relationship between the Doctor and Clara was, which might suggest it was intentional.... but if so, that doesn't explain the constant shilling of Clara as the most important companion or friendship the Doctor had ever had elsewhere?

It'd have been nicer if they'd let Clara leave at the end of S8 and introduced Bill in S9. Bill was a nice change of pace, although she was never really developed beyond basic character bullet points and lacked any sort of arc.

And no, going off with Heather doesn't count, because they knew each other for all of five minutes before Heather was killed and turned into a puddle-jumper. Heather coming back and saving Bill at the end didn't mean anything, because were was zero relationship between these two beyond a Meet Cute cut tragically short.

It'd be like if Rose was saved in "Doomsday" by the Blue Mechanic Chick she met in the "The End of the World", the connection being drawn is that thin. Bill and Heather barely spent any significant time together to establish any sort of relationship, so why should the audience care when Heather returns?
Phew, that got a little more ranty than I intended it to be... hopefully Jodie's run on the show has less problems.