Post by Norstaera on Oct 27, 2017 23:08:50 GMT
Elaith and Thene collaboration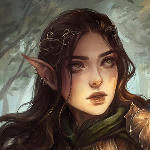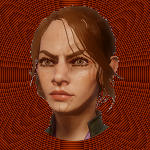 Thene warily poked her head out of her tent, her unbound hair a heavy curtain around her face.
"Huh, no trouble so far,"
she thought and made her way to the coffee by the fire. She helped herself and stared at the sludge in the tin mug. Shrugging in resignation she began drinking and walked back to her tent to stretch before putting on her armor. Thene had no idea that the leggings and oversized nightshirt she wore made her look smaller, like a child in her mother's clothing.
A short time later she emerged in her gear. Leaving her cup by the fire for the moment, Thene decided to dismantle the traps she and Elaith put up the night before. They weren't there. She frowned and kept checking; she was about halfway finished when she saw the young elf by a tree. Next to her were a bunch of traps. Elaith seemed to be concentrating, so Thene tried to be as quiet as possible rather than interrupt her.
"Mythal protector and All Mother, please watch over and guide us on our path." Elaith prayed, kneeling against a tree. The Elf got up very early and put on her armor and equipped her weapons, nervous yet eager to get going. It had been an unusual night to say the least, between her talk with Thene and witnessing Kali and Ashara laughing talking about something, Elaith was confused but happy that the rest of the team was at last getting along with one another.
After eating breakfast comprising mostly of Fennec that was caught one of traps that she and Thene set up. Elaith left some of the cooked meat on a plate and covered it with a cloth in case anyone wanted to eat it. She then went into the forest and began removing the traps. Thene was still sleeping and the elf did not want to wake her up, Elaith owed Thene for comforting her last night it was the least she could do. After finishing, a sense of dread came over Elaith one that she hasn't felt since she left her father. She volunteered to scout with Kali last night, and she confessed to Thene that she has never killed anyone before. Elaith was afraid that she might mess up during the recon and Kali or her may be killed…….
"Aduril please make my aim fast and accurate. Please give me the ability to protect my friends." Elaith was praying to the Elven Gods with all her might until she felt someone approaching. Elaith slowly turned her head, and saw Thene. "Hey Thene! Morning!" Elaith said in a rush while smiling. "Don't worry I removed all of the traps."
"I didn't mean to interrupt. Since you took 'em down I'll put them away and leave you to your prayers," Thene replied, trying not to yawn. "Sorry, some mornings I wake up in stages rather than quick and easy." She began to pack the traps into the bag she'd brought with her.
"No! No! Thene I just finished!" Elaith got up and helped Thene pack the traps. "It's that, I'm still nervous. The Red Templars and Mages….. Ugh!" Elaith began shuddering at the thought. "I feel like I'm the weak link in this, that I'll mess up and get Kail killed….. I just don't know Thene. What if I freeze up when I get confronted by a Templar or Mage?"
"Stop. You got here on your own. I've seen nothing to make me think you're any weaker than any of the rest of us. You simply have less experience than some of us. Follow Kali's lead when you're out there, she's done this before. If you're unlucky, and no matter how good you are sometimes Fate smacks you in the face, remember that they're not special just because they happen to be a mage or a templar." Thene scowled at Elaith, "If I thought you'd mess up, I'd bash you on the head with my shield rather than let you go. Just so you know, dragonbone hurts."
Elaith flashed Thene a toothy grin. "Aww It's nice to know you care about my well being!" She said with a wink.
"Maker slap my ass," Thene closed her eyes and grumbled, "irrepressible and chipper as a damn chipmunk in the morning and my shield's in my tent." She opened her eyes and scowled, "Hate to burst your bubble, Sunshine, but I'd whack Helen or Ashara if I thought they might endanger the mission or the rest of us."
Elaith giggled, "Oh Thene! If you truly knew me you would call me a wild thing! It's what the humans called me when I first traveled on my own. They tell me, I don't act like a "proper" city elf."
Thene snorted, "Proper? You mean
'properly'
subservient and respectful, don't make waves or draw attention to themselves. I know the type you mean. Idiots."
Elaith shook her head while putting her hands on hips. "It's aggravating all the shit we elves get. Sometimes it's as though the humans don't want to understand us. If they see us as people, then they'll realize the abuses they put us through, so it's in their own best interest to treat the elves like animals, like animals they are inferior after all." Elaith then looked nervously at Thene. "N-No offense to you Thene! You are among many humans who I came to know who are very good people!"
"None taken," the warrior shrugged. I don't consider myself particularly
good
," Thene considered with pursed lips. "You're right about some humans. Some elves can be just as hidebound. Doesn't make it right." She held up her hand before Elaith could protest. "My father wasn't a
proper
elf either. Some called him a traitor, because he married a human woman, said it could only bring trouble. Of course, some humans were quick to say things, too."
"Wait…." Elaith frowned a little bit. "You're half elf? Wow! It's wonderful to have someone to relate with!" The Elf gave Thene a big smile. "I do consider you a good person Thene. What you did for Arehdel and what you did for me last night. You
are
a better person than you think you are."
Thene snorted again, "People can be real maggot brains. It's a great equalizer." She rolled her eyes. She wasn't going to argue about her supposed
goodness.
That was just too weird. She'd much rather think about bandits, rogue Templars, and rabid mages.
Elaith put her hands on the back of her head. "But they do have potential to be good people right?"
The warrior shrugged. "Probably, maybe," she finally answered. Thene amended her answer after more thought, "Some. I don't know. Most Chantry folk I've met seem to think so, but maybe it's part of their job description." Thene scratched behind her ear and sighed, "To be honest, I'm not around anybody long enough to know if they change or not. I just deal with them as they are when I find them."
"I guess you're right," Elaith shrugged pushing a lock of her hair over her shoulder. "Say Thene do you have any more tips for me while I'm scouting?"
"Other than don't get caught?" Thene smirked. Then she addressed Elaith's question more seriously, "Not really. We want to know how many people we're dealing with, of course. It'll help if we know how many are mages, and if there are any prisoners. Do they have a lot of supplies with them? Any information you can gather without getting too close. Then we can plan our attack."
Elaith slowly nodded. "Okay that sounds good," The elf stood for a moment pondering what Thene said then spoke "Hey Thene, can I ask you another question?"
Thene nodded and waited.
Elaith opened her mouth but closed it shaking her head in the process. "I-I'll ask you later Thene," Elaith said hesitantly. "It looks like Kali is waiting for me ahead, wish me luck." And with that Elaith left the camp.
"Good luck," Thene responded, blinking a bit at Elaith's abrupt departure. Whatever the young elf wanted to ask her, Thene was confident she'd find out sooner or later.