Post by BansheeOwnage on Sept 29, 2016 8:14:05 GMT
WE NEED CULLEN'S HAIR IN THE ME:A CC.
We
need
it.
Snip
From the4K tech Video, looks like Bio stuck to their guns for Ryder's(male) hair style. It looked painted on.
Yeah, it was a bit disappointing, especially for a
tech demo
. "If you're not watching this on a 4K screen, stop watching, because otherwise you won't get to see Ryder's plastic hair in amazing detail!"
I jest. Somewhat

Female Ryder's hair looked better, though, so we'll see. And now I know why the first face they showed us was the asari: No hair


Skip the unisex hair and eyebrow options. The first time I made a male Inquisitor and went to work on his hair, I thought I'd made a mistake and selected female. ALL THE OPTIONS WERE THE SAME!

I... disagree. Hear me out, though. (I just dug through the first 50 pages of my liked posts on BSN Prime looking for my posts about this so I wouldn't have to write something new... I'm stubborn to the point of stupidity sometimes, because I could have written something new a few times during the time it took to find one). Here goes...

"The whole hair thing was not an attempt to be progressive by any stretch. It was just laziness. Like you said, they should have focused on styles for each gender then, after that, made them available to both, because Options Are Good™. It's pretty clear that the only reason they did it the way they did was because they realized they had so few styles by the time the game was wrapping up, so they made them "gender-neutral" as a way to appear as though they had variety, and appear "progressive".
I'm totally in favour of making each style available to everyone, but not how they did it."
That one was a bit ranty, but sums it up well enough. What they need to do is make a bunch of nice options for males, make a bunch of nice options for females,
then, after that,
make them all available to both. That's the only way to maintain quality and quantity, and it gives players much-needed freedom of options.
Same applies to eyebrows, I suppose... Never thought of that. So, does that sound fair? I want people to have all the options available to them (and I've seen some good looking Inquisitors that would have been impossible without the overlapping options), I just don't want them to sacrifice either gender's selection to do it, as you don't.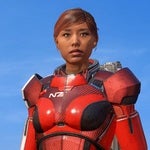 BansheeOwnage
as Associate Producer of the CC feature. Would be the best hire ever.

I couldn't agree more with every single item in your list, but I have to call this one out and quote it for truth:
YES! I hated the fact that I had to pick the practical style to look "right" in combat, but couldn't undo that choice for more casual or intimate moments. Particularly since practical usually meant severe looking. Talk about immersion breaking.
Speaking of no regressions, keep the mode where helmets are on during combat, off during cutscenes. That's a good compromise between immersion and "I want to be an actor in my own movie." You never see Brad Pitt spend 80% of a movie with a steamed up faceplate covering his mug. Even when every other character on screen has one.
Haha, well thank you, that's quite the compliment!
I would put a lot of effort into it, I assure you. Remember that dev who spent personal time making all the races work for Bull's scenes? I'd be like that. And if I couldn't get something done in time, I'd include it in patches! Yeah
Vote for Banshee?
Glad someone else likes that idea! I agree, it sucks having to choose between not looking quite how you want on missions or not looking quite how you want off missions... And just having some aspects of appearance be dynamic would help it feel less "game-y" in the sense of feeling that nobody ever changes basic appearance at the moment.
Good point, and while I also hope they keep that feature (and judging from the Tech Demo, they are), I hope they expand on it. Let us select that option separately for each companion! I wanted to wear to see Bull wear Dread in a cutscene, but what if I didn't want to see anyone else's helmet? Furthermore, I was disappointed that in DA:I, you can't wear headgear
at all
during cutscenes, unlike ME, so you can't even show off your Hat/Helm of the Inquisitor... ever. Basically, let us wear or not wear a helmet anywhere it makes sense.
They could do it where both male and female Ryder are on the cover, since they are both actual characters in the game. They did something like that when they officially revealed it at E3 2015.
You're right, for some reason I didn't think of that! It would something of a unique opportunity for them.

I know...

Sadly, it's so common, it has its own name (Boobs and Butt Pose) and
trope article
. Yep, in Mass Effect, you'll never,
ever
wonder if a character is male or female. Bioware will make it... clear.
On a more amusing note, though, here's Iron Man doing that pose, sort of

: