Post by B. Hieronymus Da on Oct 25, 2016 17:11:27 GMT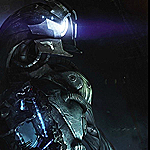 If a "magician" could actually accomplish a desired effect, then it would mean that the "magic" he works/manipulates abides some laws, and adheres to some kind of predictable outcome. - And that, dear friends, is technology! So I think Clark missed the target somewhat, which is why I rephrased it. And this footnote is relevant because of that video. Enjoy.
Maybe the difference is that science would be quantifiable while magic would not? I guess it depends how you define magic - if your idea of magic is one in which it means manipulating "ether," "midichlorians," or other substances that don't exist IRL but do exist within these sorts of narratives, then yes, it's basically just made-up science. If it's one in which these events are purely supernatural, then I think there's a still a meaningful difference.
We can use hydraulics, propulsion, fuel, and other technology to build an airplane, and to a human of the medieval era who doesn't understand those things, it would be magic, but the airplane is in fact explicable based on materials and physical laws that nevertheless exist and apply in the medieval human's world. In a fantasy narrative where a magician makes somebody disappear by saying "abracadabra," what is the explanation for that? It seems like most of the time, there isn't one - it works because, well, it just does.
That is the direction from which Arthur C Clark looked at it. There is no explanation because it's utterly beyond the observer.
Consider a house with voice activated features. "abracadabra" and there is light, music, a fire, whatever. Bring a medieval person to it.
But you don't have to use people from the medieval era. Just because people have learned to take technology for granted doesn't change it in any way from having learned to take magic for granted.
Consider a smart phone. Few people can explain how that works. They think they can explain it: "It's a screen, a processor, radio waves"... But actually they can't. Their explanation doesn't add up to much more than "It's technology" == "It's magic".
And they can't make one. Just as they can't make magic.
The magician otoh, if he can do something that has an intentional and predictable consequence, then he does no other thing than applies some physical laws. It doesn't matter what you call it, "midichlorians", whatever, because, just as you said, it then has to belong to physics, even if it's made up physics.
But it also doesn't matter if you don't call it something. Just as it doesn't matter if you don't try to explain it. It's just that it's beyond you. But cause and effect must be essential for the magician, or it wouldn't work when, if and as he wants. So the only difference is that you don't try to *explain* it. Very convenient.