Post by runespoor on Dec 10, 2016 0:56:45 GMT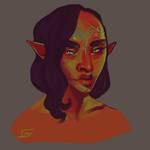 Here's the thing, though: none of this happens.
Merrill takes advice from one demon; does everything in her power to minimize her interactions with said demon; when she's at her wits' end, and only then - six years after she last took advice from the demon - she decides to face the demon, and talks Hawke into being there to cut her down if she becomes possessed. Merrill is perfectly aware and has been as long as Hawke has known hers that there's no such thing as a good spirit. She's not naive, she's remarkably cautious. There is absolutely no "consorting" that I can see, I'd be very curious to hear your sources.
As for Marethari's death... Nope, still not Merrill's fault that Marethari got possessed, no more than it is Leandra's fault for her parents leaving everything to her and nothing to Gamlen, no more than Dorian is to blame for his father's decision, no more than Felix is to blame for Gereon Alexius'. Marethari is an adult, she made her own choices.
Marethari also acts in a borderline abusive manner toward Merrill throughout the game: she alienates the clan from her (see: Pol's reaction to Merrill and Marethari's confirmation that she had to warn the clan away from Merrill. From what? What did Merrill do while she was away from the clan that the clan didn't already know? Merrill had akready been exiled for chosing to use blood magic. What more needed warning against, exactly?), breaks a solemn oath she made to Merrill (see: promising Merrill she'll get the arulin'holm if she kills the varterral, then promply turning around and giving it to Hawke instead).
Not to mention Marethari's own pride endangers the whole clan, of course. When Merrill agrees to leave the clan, it's presented as Marethari protecting the clan from a maleficar, and sure, that's reasonable. But keeping the clan in the same place for six years wasn't endangering the clan? I refer you to the Templars that can torture a hunter in Act 2, and who can attack part of the clan; I refer you to Ineria, in Act 3, muttering to herself "the clan should never have come to Sundermount"; to Master Ilen, in Act 3, who tells his apprentice that whether the clan is staying or leaving, Master Ilen and his apprentice are
leaving anyway
; I refer you to Merrill's own anger at seeing the clan still there and calling Marethari out on it, and Marethari's refusal to answer with more than "when
my business
here is done".
I don't doubt Marethari loves Merrill, or rather her idea of what Merrill should be. Except her love is controlling, manipulative, and ends up with getting Merrill to slay her.
I'm willing to keep the blame for the rest of the clan dying on their own heads by the same token, though honestly Marethari should have got the clan away a long time ago.
As for the eluvian itself? Marethari sure repeats a lot that the thing is "cursed", "evil", and "shouldn't exist in our world", but any further proof, detail, or explanation sure isn't forthcoming. (Merrill's obsession with the eluvian is indeed self-destructive, but that has little to do with Merrill's blood magic, and is no proof at all that the mirror is "cursed", especially in a game that boasts actually "cursed"/"evil" objects, i.e. red lyrium.)