Post by Deleted on May 30, 2019 20:20:41 GMT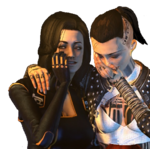 I said that regardless of being direct or indirect, it is still a sequel. You said it was a sequel, albeit an indirect one. If I worded it incorrectly, I am sorry. Don't be so touchy. I still am, provided it is done right, but a lot of people wouldn't be, because, as I see it, the push for a Shepard survives Destroy ending is strong. And I can be wrong, as I have no real metric for it, but most, not going to say all, not going to set an absolute, most of my anecdotal experiences seem to want that and I do understand, from the way they set it up, as to why it could work. My ideal scenario, however, is not even a sequel. It's a
sidequel
, if you can name it that, that doesn't invalidate the endings, but maybe ... perhaps, could supplement them, a little. Just saying. My hot take on the subject, you can slam it, if you want. Wait a second, didn't you say that you wanted Ryder to grow into a Shepard? Like, I distinctly remember you saying that. Now you don't believe that Bioware can write a Shepard-like character? Can you please elaborate on this? Like I said, you only have to nail it 70% of the time. You need to do a good enough job, so that everyone, or mostly everyone, come out of it satisfied enough, that the relentless attack on Bioware either stops altogether or drops to a degree that is either manageable or ignorable. And I do understand how this affects you and I am sorry to have to ask you for your compliance, but if its desired effect results in a future for Bioware and Andromeda 2, would you not be willing to make a compromise, so that perhaps Andromeda gets a fairer chance at making it all the way through? Would you rather Andromeda 2 suffered the same fate as Andromeda 1, i.e. closure in book and graphic novels, if even that? I see that risk as being very real, especially since we've seen it happen nearly twice already and a very likely looking third time would absolutely lead EA to shutting them down? I fear for what would happen. Maybe even Casey and the others at Bioware would fear that backlash, but the decision to do one thing over the other, would be a business one. The execution of said project, though, would be one based off of fear, panic stricken is perhaps the word, I'd be looking for, if the reaction was wholly - well, not wholly, but more like majorly - negative. Think if that reaction makes the dev team second guessing themselves for the largest part of development, like they did with Andromeda's and Anthem's pre-production, instead of actually moving into full development and having the game made in its entirety, like Anthem, like Andromeda, in the final year or so. Bioware would not survive that again. Not to mention, you wouldn't be getting the game you deserve, let alone the one you want.
I did not say it was a sequel. In fact, I gave the factual position of it in the timeline. It starts before ME3 begins and ends long after, but without any reference to how ME3 ends. You can argue alternate terms for that all day long... it doesn't change that what I presented above is accurate/factual. The definition of a sequel in this context per Miriam Webster is: the next installment (as of a speech or story) especially : a literary, cinematic, or televised work continuing the course of a story begun in a preceding one.
You cannot resurrect Shepard in a point after ME3 ends without invalidating any of the endings in which Shepard dies. Similarly, you cannot resurrect fallen squad mates without invalidating the circumstances of their deaths earlier in the game. You could not have a continuation after Virmire with both Ashley and Kaidan alive without invalidating the Virmire choice. Similarly, when they brought Shepard back to life in ME2, they invalidated his/her death at the beginning of ME2. They did it by creating the Lazarus Project and it became, by necessity, that he/she could not have died. The evidence was there... regardless of how long people in the MEU believed that Shepard was dead, Shepard ultimately was not dead... hence, all the lines and quips in ME2 and ME3 about Shepard having been only "mostly dead." Some people liked the concept, others didn't.

If they continue the MET Trilogy by resurrecting Shepard yet again, they are invalidating, by necessity, any ending in which Shepard died in ME3. Those endings simply cannot continue to exist within the ongoing MEU after that is done. It doesn't matter how I or you or anyone else feels about it or how you or I might "rationalize" it, it just is. It changes ME3 from an intended Finale into an invalidated finale. That's just a fact... whether you're among the group of fans that want it that way or not. My preference is to keep ME3 as a finale... it's really that simple.
If they do eventually have the Initiative return to the Milky Way and IF they do it in a manner that refers to or clearly continues the story ended in ME3, then Andromeda could become a sequel of ME3. That's not evident yet, although Mac alluded to that possibility back when Andromeda was being prepared for release. They could avoid it becoming a direct sequel by pushing the timeline to a point where the events of ME3 simply aren't evident in the Milky Way (which is an option some people here have also said they favor over other options). However, as far as I can see, every idea detailing that sort of scenario has been shot down here as well.
The "destroy only, Shepard lives" group feel their preference is Bioware's only option. I disagree... Bioware have many options that appeal to different groups of fans. No group can accurately say that they represent "everyone" or even a majority... because it's also fact that the purchasers of each game are in the millions and no site of vocal fans represents even a statistically significant portion of those purchasers. The majority of fans are silent (which is where I came into this debate and where I will leave it.)