Post by Deleted on Jun 4, 2019 0:42:12 GMT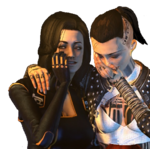 I don't think I'm misusing the word "invalidate". It's definition is to make (an argument, statement, or theory) unsound or erroneous. I think you, and others here, are attaching an emotional connotation to it that I don't actually share (maybe that's a generational difference, IDK). Shepard or other characters cannot be both dead and not dead regardless of how Bioware writes it or people rationalize it. The moment Bioware brings someone, anyone, back to life their death is immediately invalidated. Yes, Ryder being revived invalidated his/her death - Ryder did not actually die, he/she was "clinically dead for 22 seconds" which is not the same as being dead. IRL, when someone is pronounced dead, they stay dead unless the pronouncement of their death was actually in error. Over the years, we've changed the point in time when we are prepared to pronounce someone dead, but a correct pronouncement of death still results in someone being and remaining dead, period.
So God's pact with his chosen people, that upon the death of his child, mankind would be delivered from sin, is actually a pact that cannot be fulfilled, because their resurrection invalidates their death. Oh, Yahweh, you card. Congratulations, you just invalidated the premise of Islam, Judaism and Christianity in one fell swoop. That is impressive. I do have a metric that tells me the fan divide is not going away... it's based on the very fact that you've been saying such things as it gives "everyone what they want" or "everyone else" feels one way and I alone feel another.
Well, to address your opinion, my implication, which is omitted, because I simply thought we were on the same page, but apparently are not, is that the "everyone what they want" part is that you get an Andromeda game, free of negative market reception, which you do want, right? And the fans that want reconciliation/healing/whatever get a ME game that addresses their concerns, which you too are free to like, if it performs to your standard. As to the "everyone else" being the people that either did or did not have a problem with Bioware's handling of ME, according to the excerpt you quote me from. It has nothing to do with you and your opinion specifically and I am not trying to bash you.

I still have you ignored, but since my previous response was removed, along with whatever your wrote subsequent to it that I did not read, I'll respond again. I am not insulting any religion as you seem to want to imply. To the best of my layman's knowledge, in Christian circles, Christ is not referred to as being dead, he is referred as having been risen. In your own response to me, you use the term "resurrection." In the Control ending, Shepard refers to himself/herself as having become 'eternal" and I have repeatedly said that Control could also be a viable option for a story continuing with Shepard... Shepard's mortal form would, however, be changed in that case. In Synthesis, Shepard's essence was said to have been dispersed to everyone. Moving forward aligning with the Reincarnation themes of Andromeda, perhaps Shepard will emerge reincarnated as an entirely different character. Bioware have innumerable options other than Destroy, Shepard Lives" and the abandonment of Andromeda.

I have also posted an Christian-based alternative interpretation to the endings in general that essentially moves anything beyond Shepard's collapse at the console as having occurred in a form of Afterlife. The Ascension, AFter-life and other Christian imagery certainly pepper the Trilogy games. You're welcome to interpret the endings as you wish from whatever POV you wish. Nothing I've said interferes with whatever interpretations you want to make to rationalize the endings choices. There is no need to eliminate any of them by declaring one a canon (IMHO).

For a further explanation, please see my response to AnDromedary.