Post by Cyberstrike on Feb 1, 2022 14:10:07 GMT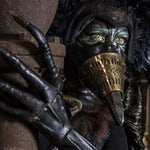 Not all side quests need to be serious and grimdark tough moral quandaries, as I've gotten older I tend to find more the humorous side quests more memorable and fun. The serious and grimdark tough moral quandaries are great when their done right but I honestly can't tell you one that I remember off the top of my head that was told right.

I love the loyalty quests of Liam and Drack because they are actually funny and memorable which is a lot better than half of the loyalty quests in ME2 especially those of Tali, Jacob, Thane, and Jack which I find now of days are all really boring.

One of my favorite side quests in Assassin's Creed: Odyssey is "Age is Just Number" where the Eagle Bearer has to help an extremely horny old woman get some ingredients for an elixir so her very tied and exhausted husband can have sex with her again. Once you get the ingredients the husband tells his wife that he's unable to keep up with her and if she continues with this it'll kill him. So the Eagle Bearer has to figure what to do, one option is just to demand to get paid and be on your way the other is that the Eagle Bearer bang the wife for 24 hours while the husband is outside their house talking with friends playing music. He asks once the Eagle Bearer comes out if his wife had fun and you give an answer he gives you a dagger and some money and you're on way. Even some of the Untold Tales of Greece DLC side-quests are just various "go get something and kill some one" type quests but the characters are so funny and the set up is well done that you can have everything from hard moral decisions to one quest that is a basically a rom-com story.

Seriousness has it's place but some times it's good to have a laugh as well.

And for me MEA did that better than other games and all their DLC combined! It allowed me to make a Ryder that was always serious or always silly, or *shock* *gasp* BOTH serious and silly depending on the situation just like a real person.

You can be in the darkest situation you can ever imagine and guess what? There will ALWAYS be people who will make jokes and don't seem to take it seriously. I like a story that isn't afraid to be silly every once and while and not just with one-liners, but some quests that have a humorous element to it or at the very least the devs know when to put in a humorous option and when not to have one.
With silly quests I mean, quests like fetch quests, procedural generated quests, and quests that keep repeating over and over.
Remember the quests in DAI were you had to bring back a cow to its owner? That is a true silly quest, which I refuse to do. On the other hand I couldn't help laughing when the W3 made a parody to bring back a goat while ringing a bell.
Humor is more individualistic than a lot of people care to admit.

I find the bring the cow quest in DAI is not funny because there is rift it would make sense that the farmers wouldn't go near because they don't have a magical mark on their hands and don't have the fighting skills and magic to fight demons. To me it's just a job that I can do (or not do), I do it after I close the rift because the cow is close by and the reason I do because it is in my head canon it helps the build a good rep for the Inquisition among the common people.

I find that reciting Sera for me is funny because I like the character of Sera and Sera often makes me laugh (her banter with Dorian and Iron Bull always makes me laugh). I know some people who can't stand her for various reasons.

The quest you talk about in Witcher 3 sounds like something I wouldn't find funny because it sounds like a stupid waste of time to me (and FTR there is no way on God's green Earth or in Hell that I will ever play a CDPR game and/or a Witcher game) and something I would skip unless there is a lot money/XP, a cool item to get, or I absolutely have to advance the story.