Post by LadyofNemesis on May 7, 2020 9:33:33 GMT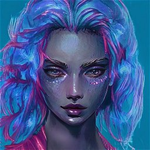 ...my canon Quizzy has a case of survivor's guilt after In Hushed Whispers and keeps having nightmares about that alternate future for quite a while
I mean, the advisors read the reports about what happened, but only you and Dorian experience it (remember, the other squad members don't go into the future with you)
I head canon she and Cullen help each other through the nightmares
Especially with my headcanon world where things went even worse in that dark future (having to kill Red Templar Cullen and finding evidence of her clan, including her daughter, being killed by Venatori - I swear I only torment her because she's one of Mamma's favorites...), she's got her own bit of PTSD by the time she gets to Skyhold. When everything that happened in the future comes out and they realize how bad she took it, I envision Cullen kicking himself for not noticing the signs earlier. Like you, I think they could help each other through their nightmares and experiences.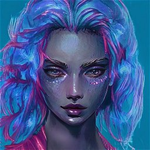 hm... I think it's because Cullen wants to protect people?

Maybe he's angry he wasn't there to help? (I've no idea

)
I think you're right, I feel like at his core Cullen wants to protect. He joined the Templars to not only protect good people from bad mages, but also to protect good mages from bad people. In Kirkwall he still wants to protect, but his past and Meredith's grooming have him wearing blinders as to who needs protecting from whom. In Inquisition he still wants to protect, but can't do so as directly as he could before. He's stuck at home so to speak, and probably feels the others aren't taking some threats as seriously as he thinks they should, so he gets frustrated and lashes out (and I'm sure the above mentioned withdrawl/PTSD fallout isn't helping his temper any).
I think there was more I wanted to comment on, but forgot to quick quote it and probably typed enough already anyway...
I love that thing you linked *saves it to dashboard*
tormenting our favorites is something we have in common
Like...I love tormenting my canon Amell/Surana Warden by not giving her an in-game romance and breaking apart her friendship with Alistair by recruiting Loghain
my canon Hawke has conflicted feelings toward Anders' fate during the end game (he ends up killed in my canon)
as for my Quizzy...I've yet to decide if I want Trevelyan or Lavellan as my canon Inquisitor...I already have a whole head canon story for the former in my head, but tend to end up making the latter in the game itself...those do not go together
however at her core, my Inquisitor remains this insecure mess regardless of origin, which is only strengthened by being thrown in the role of Herald/Inquisitor that she does not want at all. Then IHW and IYHSB roll around and well...let's just say she has had some cases of emotional breakdowns and cases of trying to run away on multiple occasions (only for someone to come bring her back)
at one point I also made a de-frosting ice queen Trevelyan in my head canon who's closer to a tranquil in emotional range and makes people wonder if she has emotions at all
cue one of her outbursts and yes, she does have emotions...Josie was concerned the hall would remain frozen forever

--
And I think that's one of Cullen's core qualities, his will to protect people regardless of who they might be.
I do feel like those core beliefs were altered by the events of Broken Circle and his time in DA2, but they're still there
by the time Inquisition rolls around I think Cullen is at his best, still some of the insecurities brought on by what happened but also grown by the experience
as the Inquisitor says in one of their romance scenes "for what it's worth, I like who you are now"
also...to close of my post
have some art