Post by Hrungr on Nov 7, 2022 16:18:37 GMT
blog.bioware.com/2022/11/07/n7-day-2022/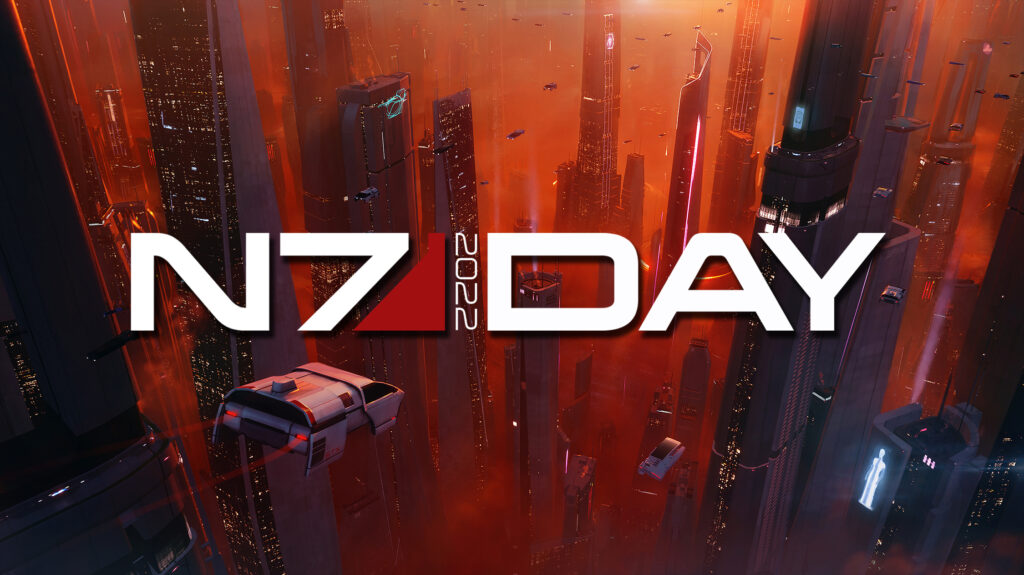 Greetings from across the stars!
Today marks our annual celebration of you—the Commanders and Pathfinders who've made such a celebration possible. Happy N7 Day!
N7 Day 2022
Since we last spoke about the next Mass Effect™ game, pre-production development has been proceeding very well. The team, comprised of Mass Effect franchise veterans as well as some amazing new additions to BioWare™, has grown steadily! They've been hard at work crafting new characters and locations that you'll love, as well as revisiting many that you'll remember.
This year, we wanted you to meet some of the people leading that work, so we're putting a spotlight on four of the team's leads for you to get to know a little better. With every game we make, pairing new talent with veteran developers has provided us with fresh perspectives and ideas, not to mention skills and experiences built from across the industry. Allow us to introduce to you Mike, Danielle, Mary, and Parrish!
MIKE GAMBLE Project Director
"I'm lucky to lead the team creating the next Mass Effect game. This mostly means randomly dropping into meetings, nodding a lot, and then telling everyone how amazing they are. Sometimes my job is the best in the world. Sometimes.

" - Set Sail: "I love to sail, but I can't swim, so I just make sure I don't fall off the boat." - #1 Mako Enthusiast: "I love to drive; the more challenging and scenic the drive the better." - The Tallest of Friends: "I have a Christmas giraffe named Jeremy."
DANIELLE ENNS Senior Development Director
"Most people think the bulk of what I do is budgeting and scheduling, but the heart of my job lies with our people. I work with the Production Team to enable our developers to do their best work, and that's accomplished not just through processes and coordination, but also by caring about them as people." - Athletic Ability: "I've played Ultimate Frisbee for 20 years and have travelled around Canada and the US to play in tournaments, including the Canadian National Championships. " - Prarie Slang 101: "I'm from Saskatchewan, so I use the term bunnyhug, not hoodie." - Solemate Searcher: "I own a large shoe collection and would love to add a pair of custom Mass Effect heels."
MARY DE MARLE Senior Narrative Director
"I spend my days dreaming up stories with a bunch of talented writers. Then I work closely with artists, gameplay and level design experts, audiophiles, and programmers to turn those stories into immersive player-driven experiences." - Paw-ssible Distraction: "I recently adopted a 5-month-old kitten named Lily who likes to explore, play with my pens and keyboard, and use me as her bed. My productivity has suffered greatly." - Yes, And...?: "In my spare time, I've been experimenting with improv acting–despite hating being in the limelight and not having a comedic bone in my body." - Best in Class: "Winning Best Narrative at the The Game Awards for Marvel's Guardians of the Galaxy was the highlight of my career–equaled only by joining the Mass Effect team!"
PARRISH LEY Franchise Creative Director
"I work with our talented team to deliver the game's emotional, narrative, and tonal elements, ensuring that the next, big chapter in the Mass Effect saga stays true to the franchise's roots. I feel incredibly privileged to be able to carry this biotic torch forward." - Moustachioed Maker: "While working on ME2, I appeared in a 'making of' video (pictured). Surprisingly, my moustache was so well received, the fans created threads discussing it." - Favorite Game: "I played Flashback on the Sega Genesis in the mid '90s and it melted my grey matter." - Hobbyist: "I grew up on a steady diet of sci-fi paperbacks, comics, DnD, anime, and video games. One of my all-time highlights was meeting Ray Harryhausen."
One day, when we're ready, we'll have more to share on the next Mass Effect, so thank you for being a part of this journey with us. It's exceptionally exciting for the team and we'd love to continue sharing glimpses of what we're working on with you in the future. And, on today of all days, we also want to honor the legacy that got us here. Millions of you have now experienced Mass Effect Legendary Edition, as returning players or for the first time. It means the world to us to see you enjoy our games and become part of this story.
Whether you've donned the N7 since the beginning, are planning to someday soon, or anything in between, it's a privilege to see you wear it.
The Sims 4 x Mass Effect
A few folks at BioWare and Maxis came together with their mutual love for Mass Effect and The Sims 4™ to make a little something they wanted to give to fans of both franchises. We're excited to share that we'll be releasing N7 Day-themed wearable items in The Sims 4 on the 17th of November. These items are free to anyone with The Sims 4. Don't have it yet, but want these exclusive crossover items? The Sims 4 is now free to play across all platforms!
Two Sims wearing N7 Day-themed attire while talking about games. Rated Teen to Mature.
We can't wait to see you all rocking your Mass Effect fandom while doing incredible things in The Sims 4. Be sure to show us your Sims after the update goes live!
Sul sul!
Favorite Store On The Citadel
Our friends beyond our studios have been busy, too! From the BioWare Gear store to Dark Horse and more, we've got some cool stuff coming your way for fans who want to add something new to their collections or wardrobes. Full details and lineups can be found on each retailer's website, so be sure to check out what they have in store for this N7 Day!
BioWare Gear
BioWare Gear Store
Sanshee: Collect Joy
Sanshee
Dark Horse
Dark Horse
Volante
Volante Design
And for those of you looking to jump into Mass Effect Legendary Edition on PC, we're also having a sale on the remaster on the EA App and Steam! Be sure to check it out if you're interested.
Transmission Intercepted
Every N7 Day is special to us—every single one. It's a day made for all of you and exists because of your passion. As our team on the next Mass Effect game celebrates today with you, they wanted to leave you with one final message from the Project Director of the next Mass Effect game, Mike Gamble.
In the nearly 15 years since the release of the first Mass Effect, the biggest reason we still love working on it is the warmth, dedication, and passion of this community. There are some of you who have been with us through everything. We've grown together, sacrificed Ashley together, (Editor's Note: Or Kaidan, Mike! We all make different choices.) faced difficulties together…and laughed until our Faces Were Tired…together! And for those of you who are new to Mass Effect (thanks, Legendary Edition!), welcome! I can promise that many years of fun, adventures, and characters you'll fall in love with are still ahead.
Regardless of when you joined us, through four games and more expansions, I can say with certainty that we're in this because of you, and every N7 Day is a wonderful reminder of that. As we look forward, each week is a fun and exciting challenge for the team. We love bringing this universe to life, and although there's much more we want to share with you, that'll have to be for another time.
For now, there is something we want you to have a look at. We've intercepted some strange footage from one of the monitoring stations in known space. It could be nothing, but…